As we come to live in a society dominated by technology, it's easy to forget our industrial past.
The high standard of living we now enjoy was created by industries that turned iron ore into steel for railways, and trees into ships, and manufactured goods like tractors that turned prairies into farmland. Sure Flow Equipment is located near Hamilton where Stelco began making steel in 1910. While the process is much more energy efficient and environmentally responsible than early in its history, many of us remember when plumes of steam arose from the coke ovens.
In an ironic twist of synchronicity for those of us at Sure Flow Equipment who like to honor our industrial past, the S.S. Keewatin has recently been towed into nearby Hamilton Harbour for a retrofit.
This ship was built 5 years before the S.S. Titanic and is one of the last Edwardian passenger ships left in the world. She spent much of her working life ferrying passengers from Port McNicoll to Port Arthur, now called Thunder Bay. Many immigrants would have taken the train from Toronto to the ship, then it would have transported them through the Great Lakes to Lake Superior. From Thunder Bay they would have got back on a train to make their way to work, or perhaps to claim farmland in the prairies, and the start of a new life.
Once alternative forms of transportation displaced her, the Keewatin began her time as a museum and tourist attraction.
After her retrofit she'll move down Lake Ontario to the Marine Museum of the Great Lakes in Kingston where she will once again be a tourist attraction.
There are reasons people like to tour reminders of our past like the S.S. Keewatin. They take us back to a time when life moved more slowly. A flight from Toronto to Thunder Bay today takes under 2 hours, versus the more than 3 days it would have taken with train travel and the journey on the S.S. Keewatin.
That journey would have provided amazing scenery and time to meet others and find out about their past, where they were going and what their dreams were. The entire journey would have taken many weeks during which time you would have been out of contact with loved ones.
When the S.S. Keewatin reopens for tours, many will journey to Kingston in electric vehicles, guided by GPS while they can stay in touch with friends, relatives, and world news instantly.
While it seems unrelated to our usual feature of product innovation in this space, it never hurts to take a minute and reflect on our past. Sure Flow Equipment supplies a variety of products to ship builders and companies that maintain ships. We provide products to steel mills, and the pulp and paper business, and to power generation facilities and the petroleum industry, that will power many journeys to visit the S.S. Keewatin and reflect on our past.
At Sure Flow Equipment we always have our eye on the future with innovation and our commitment to continuous quality improvement, but we like to reflect on our past and on how we got this far.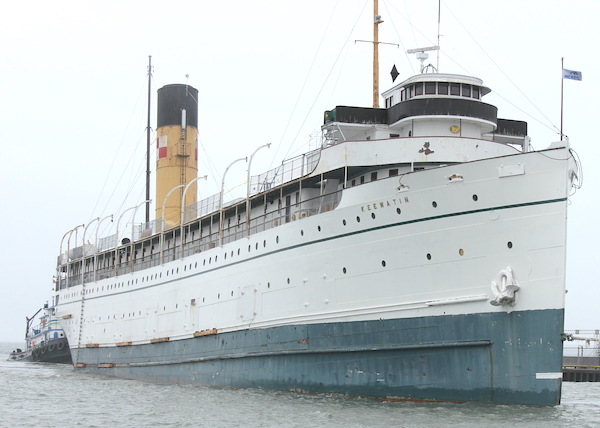 Here is a photo taken by Sure Flow Equipment Penni Boxall, of the S.S. Keewatin being towed into Hamilton Harbour for refurbishing, May 2023.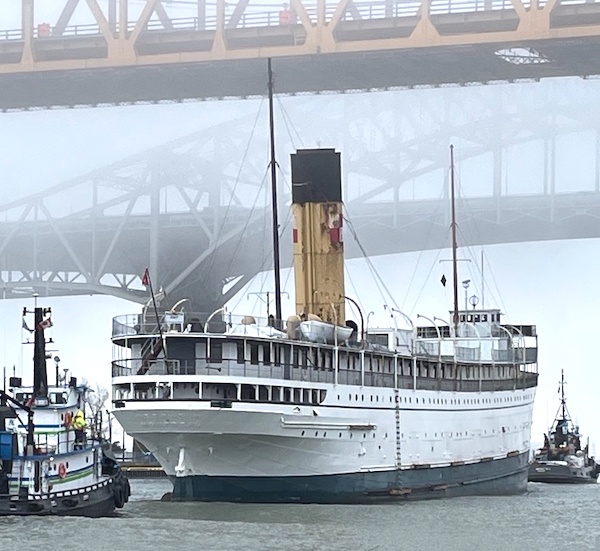 We particularly like the symbolism of this image. As the S.S. Keewatin is towed into Hamilton Harbour, overhead you can see the Burlington Skyway. On the highway above individuals zip by in personal automobiles at high speeds, on their way from their home to their exact location in record time. Overhead trucks also whisk products by at record speed, from electronic gadgets to a variety of foods from all over the world. The speed and convenience of our modern transportation networks would have been hard to conceptualize for individuals traveling on the Keewatin a hundred years ago.