Sure Flow Equipment Inc. has committed to make employee Health and Safety one of our key objectives. With the work of our Health and Safety Committee, we continue to make the safety and well-being of our employees a key component of our continuous quality improvement.
•  Safety Equipment used on site
•  St. John Ambulance First Aid Trained Staff
•  Automated External Defibrillator on site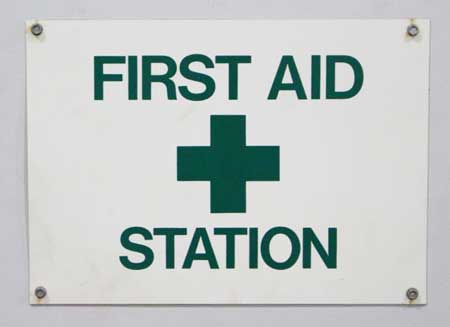 We're very proud of a lot of different areas of our business at Sure Flow Equipment, but none more so than our record for Health & Safety.
In an operation as large as ours, with a huge variety of dangerous things going on … welding, moving large pieces of steel, loading heavy product … there is the always the potential for injury.  We are aware of these dangers and have made great effort to try and avoid such an outcome.
We very grateful that in almost 3 decades we have not had a major incident. We have had many of the types of injuries you might get working around your garage such as minor scrapes and burns. But we have avoided something large scale, and we credit our staff and the Health and Safety Committee which has worked hard to ensure a healthy and safe work environment.
St. John's Ambulance First Aid training is offered every three years to all employees. It's clear that you more likely to have a positive outcome from an incident if quick action is taken, so we're happy to make first aid training available regularly.
Sure Flow has an Automated External Defibrillator on site and is extremely grateful we have not had any opportunity to use it. Staff are ready and trained should it be necessary.
Sure Flow also has a fully stocked First Aid station accessible at a midpoint in the plant and warehouse facility and beside the Health and Safety Bulletin Board.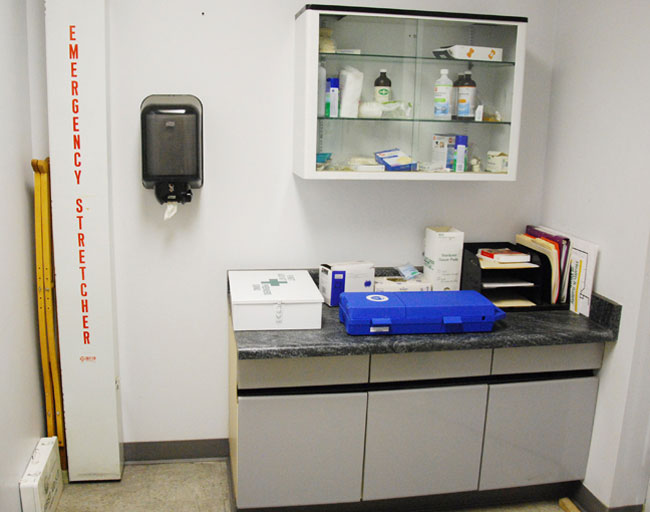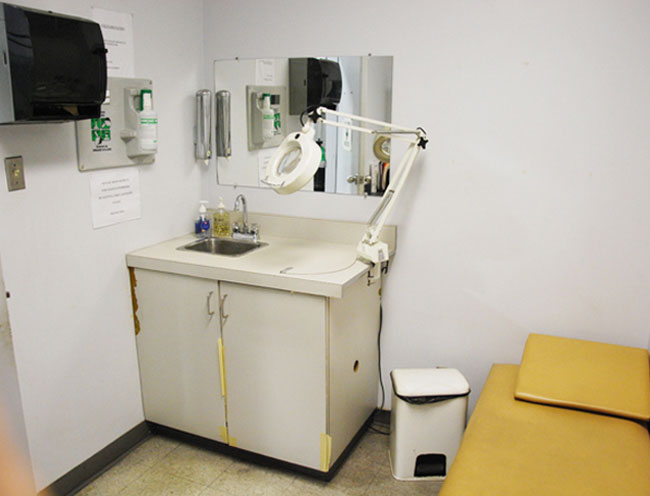 Centrally located in the warehouse is the "Health and Safety Bulletin Board." A wide variety of instructional posters and notices are posted on it to keep staff informed on any safety issues. It is located near the fridge and food prep counter which ensures staff have a moment to read the items while they're waiting for their lunch to warm up in the microwave.
In front of the Bulletin Board is the free-standing "Suggestion Box" where staff can provide feedback on how to make a great work environment even better!
The Bulletin Board also has a copy of the Ontario Health and Safety Act & Regulations (Consolidated Edition) so that all staff have a reference if they are ever unsure about any specific operating issue.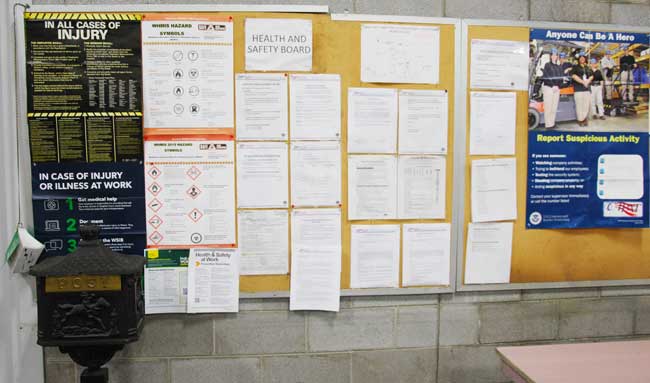 Obviously at a minimum Sure Flow follows all government requirements for Protective Personal Equipment (PPE) such as work boots and safety glasses.
The Health and Safety Committee meets regularly throughout the year and works hard to find areas where we can improve.
The Committee takes feedback from staff on ways to improve safety at Sure Flow. This can be anything from concern about water being tracked from the hydrostatic testing area making the floor slippery, to improved visibility for safety barriers in the plant.
After the Committee has taken note of these suggestions from staff it puts together a series of recommendations for action.
After the meetings, the committee also does a "walk through" of the plant, from the weld shop to the fabrication shop, to shipping, testing, the machine shop, the whole enterprise. This just ensures that the committee is not talking in generalities without actually walking through the premises and having a critical look at how things could be done better.
Sure Flow CEO John Wordsworth insists the plant be kept clean and free of any clutter that might cause injury. Regardless of how many precautions we take at Sure Flow, we are prepared for an injury should one occur.
Here Jason makes the barriers that prevent forklifts from getting too close to critical paths in the warehouse, brighter and more visible.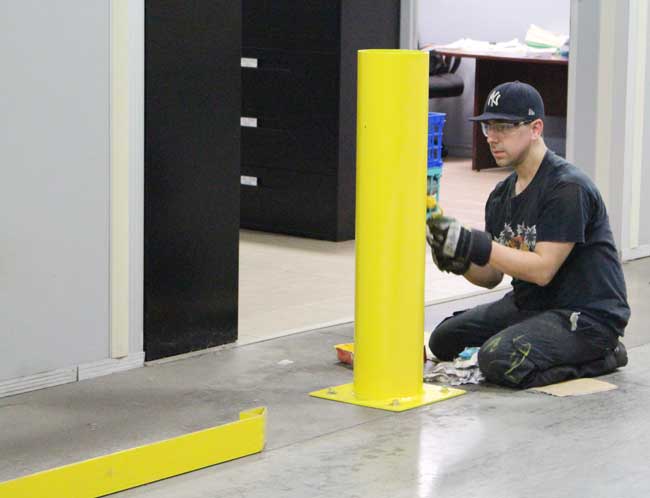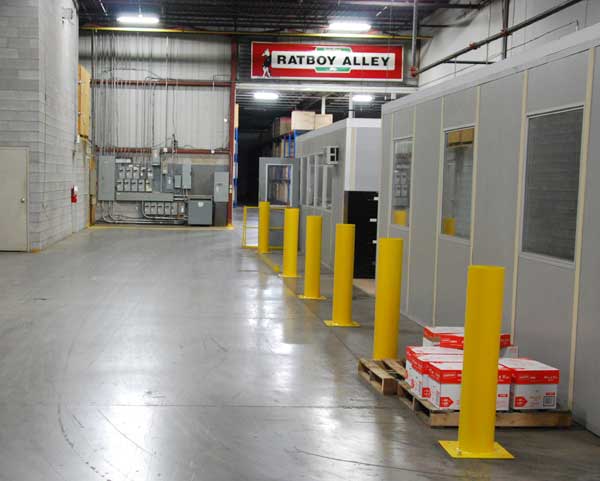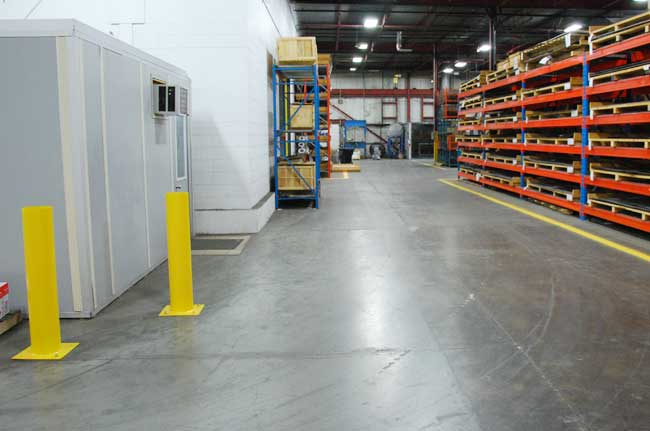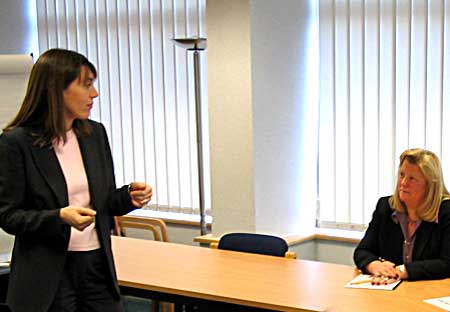 Additional Training and Facilities
•  Self Contained Conference Room
•  Full Audio and Video Equipment
•  Product Demonstrations available for team members and customers
•  Executive Board Room