Launching a 'Pig' through a pipeline or piping system, can be a complex and challenging process. The goal of the Pig is crucial to efficient pipeline operation, whether it's from providing information or routine cleaning and maintenance such as administering corrosion inhibitors. The actual process of launching and retrieving the pig can be complex.
The launching of a pig through a pipeline requires an extensive step-by-step checklist of the process which must be adhered to and is essential for worker and pipeline safety. Anything that can be done to minimize the potential for any problems with the launching of a pig is a welcome addition to the safe operation of this process.
Kicker valves, by-pass valves, mainline valves, mainline block and by-pass valves, by-pass valve for pig loading, pressure awareness plugs, upstream isolation valves, corrosion coupons, smart pigs… there is no shortage of technical and safety elements to distract the launching and receiving team.
That's where Sure Flow's expertise in fabricating "Barred Tees" comes in. To move a pig through a pipeline can require significant pressure, and each time it encounters a pipeline branch opening (i.e. entrances and exits) added to the pipeline for the various valves, pressure monitors and other functions, there is the possibility for the pig to become impeded.
To prevent this occurrence Sure Flow produces "Barred Tees". These are literally Tee strainers with bars across them to prevent a pig from deviating from its preferred straight through path. Custom fitted bar sections are welded to the branch of the butt-weld Tee. They are added to ensure the Pig passes by the branch opening. Bar spacing is designed to prevent damage to the functional elements of the Pig.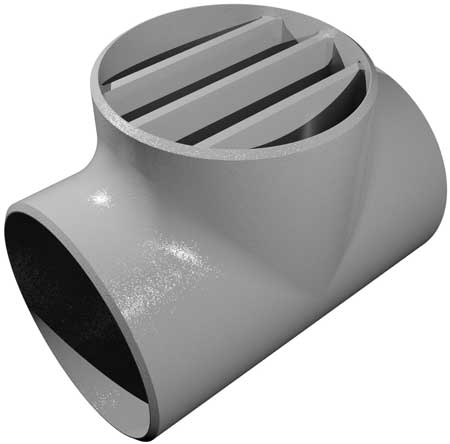 Our Barred Tees are manufactured to specific customer project specifications in a full range of sizes from ASME Class 150 to 2500 and higher. They are also designed to the highest industry standards and pipeline vessel design codes.
Butt-weld End Connections are standard while optional Flanged Connections in raised face or RTJ, as well as extended pup-pieces are available.
Barred Tees are used in a pipeline system at any branch in the pipeline to ensure safe passage of the Pig. As with all our products, working with our customers to ensure the highest quality and the greatest functionality and versatility is our focused mandate.