Some products just stand out and make a statement.
We think this order of basket strainers clearly meets that parameter.
These custom fabricated BW150 basket strainers were destined for a marine environment and required a specialty external coating which in this case was red.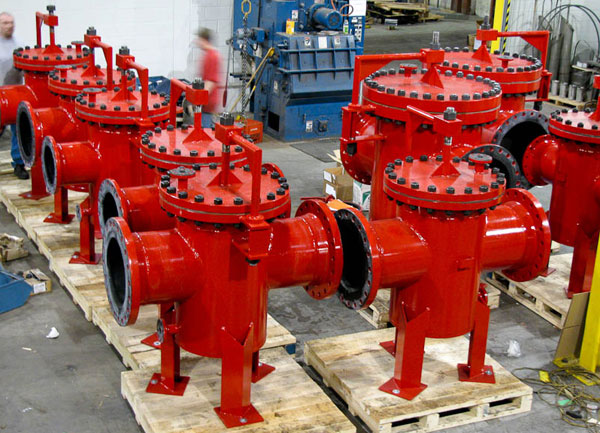 Of course, when you think of water though you think blue. And since the Sure Flow Equipment logo is red and blue, well, we think this is the perfect mix.
These basket strainers were custom fabricated from carbon steel.
They include a bolted cover that includes a davit to aid in the removal of the blind flange.
Each basket strainer included legs to minimize the piping loads when they were installed in line.
The units also contain a flanged vent and drain connections.
The other major parameter of this order to note is that the strainers were rubber lined. Using a rubber lined strainer is usually a cost-effective alternative to exotic alloys like super duplex stainless steel or Monel. Stainless steel is an excellent material when corrosion resistance is a requirement. The two phases of duplex or super duplex stainless steel are even more resistant, but as you increase the quality of the material you add to the cost.
Rubber lining custom fabricated strainers such as these achieved our customer's goal of corrosion resistance within their operating budget.  In this case the strainers would be used in sea water service.
As we've often noted, many Sure Flow Equipment products end up being used for cooling water for power plants. Since many urban areas are near large bodies of water, many of the plants we work with are located by the ocean. Therefore, the cooling water, which is essential, is seawater and therefore salty. The rubber lining prevents the carbon steel which the strainer is constructed of, from rusting.
This order came from our fabricated photo archive and while we assumed the external coating was red because of the marine environment that they were operating in, it's also likely that the red was to match the balance of the piping in this area of operation.
Either way, it's a colourful order, brilliant 'red', operating at a plant beside the 'blue' ocean, colours true to our Sure Flow Equipment hearts.