Sure Flow Equipment rises early in order to bring you the BEST customer service. As a customer, you deserve nothing less than the top notch quality of communication when searching for your perfect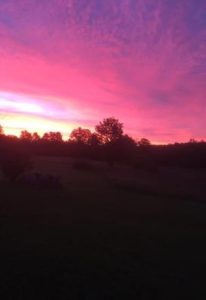 product.
When I say perfect, I mean perfect. Quality is the single most important thing to Sure Flow. My employees and I make sure that no product leaves/comes into the facility damaged, un-tested or in any other condition than perfect.
Please contact my company, Sure Flow Equipment at 1-800-263-8251 with any
inquiries that you may have. My staff will be happy to help. The below photo is taken up at my farm in the early hours of the day.
Known industry-wide for custom engineering and fabrication capability, industrial filters, pipeline strainers and check valves, Sure Flow Equipment Inc. features complete custom design and fabrication in our quality focused environment. We are ISO 9001:2008 Registered and our custom products are designed and manufactured to ASME Section VIII, Div 1 requirements with ASME "U" Code Stamp and ASME "UM" Code Stamp  and National Board "NB" Mark available.
Sure Flow Equipment's C-TPAT certification gives us the ability to safely and quickly ship our products around the world.