We're happy to report some exciting news at Sure Flow. CEO John Wordsworth recently announced that Penni Boxall will be the new President. Ms. Boxall's promotion comes after the recent retirement of Gordon Standish. She is one of Sure Flow's earliest employees and has been with the company a few months shy of a quarter century. Ms. Boxall has held a variety of positions in the accounting and management division and most recently oversaw Information Technology.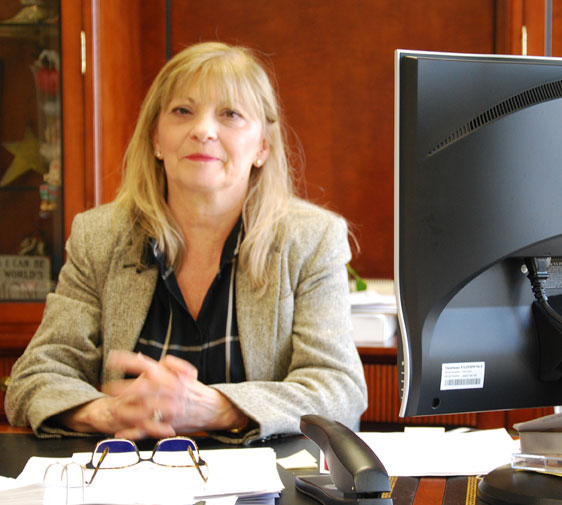 Penni's quarter century of helping to guide Sure Flow Equipment to become one of North America's preeminent suppliers of industrial valves and strainers is without a doubt a key element in her evolution to become President, as are some of her hobbies.
Anyone who's been to a county fair and seen a "horse pull," where teams of massive draft horses pull weighted sleds, might have imagined themselves at the reins of such a team of horses. The person with the reigns, controlling that team, must have a pretty good sense of leadership. Penni has been that person driving her team of Percheron draft horses.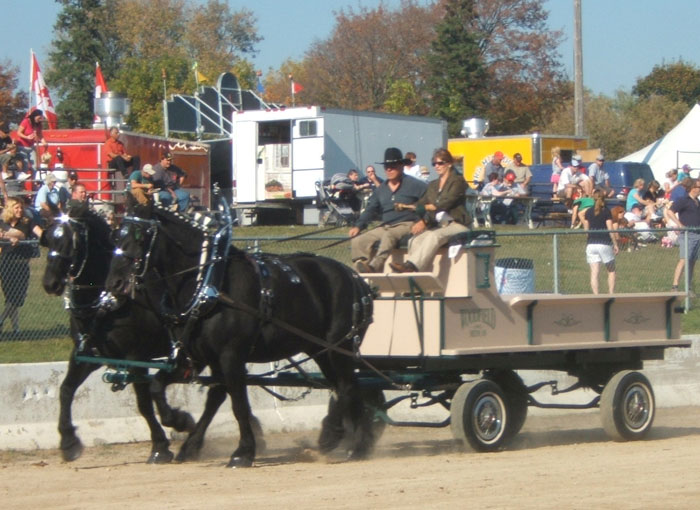 Horses are big powerful animals who easily sense fear in their handlers. They also have a strong "flight" instinct which requires a sense of calm and discipline in anyone around them. That's the fine line you walk, "No Fear" and a sense of "the calm guiding hand." This very much describes Penni's management style. It's just the balance between being a fellow team player and being the boss. Although with the family feeling you get at Sure Flow it would be better to think of it as a helpful parent who is good at striking a balance.
Penni's insight comes from years of being in charge of Sure Flow's computer and accounting systems. Most of us know the pace of change with technology and Penni has been at the forefront of it for almost 4 decades. Starting with "DOS," Penni's computer skills grew with the constant upgrades in Windows and accounting software, and network software, with computer servers and all the challenges that come with running a successful and fast-growing organization's Information Technology Department.
From taking disk and platter backups off-site to today's cloud backups, Penni has grown with the challenges that come from 3 major server upgrades and knowing that any problem can be critical, so having a backup system in place is just sound business practice. "When I think of how far computer technology has come from my early days programming in Cobol to the sophistication of todays' cloud-based applications, sometimes the mind boggles" notes Penni. John Wordsworth's philosophy has been "Change is Good" and Penni has been at the forefront of spearheading much of that innovation at Sure Flow.
With her new challenges as President Penni is aware she's going to have to delegate many of her current responsibilities, which are wide ranging and diverse. While overseeing the accounting system, including payroll, has been her prime responsibility, she also spearheads inventory management which in a company with a 100,000-square foot warehouse packed with products ready to ship, is a massive job.
"Each year our computer system 'inventory' is exceptionally close to the physical 'actual' inventory count" Penni proudly notes.
"But I'm well aware that 'Employee Development' will be part of my new focus, and getting others up to speed in a variety of areas will be critical."
Penni is also well aware of the challenges that face every business today. "There's lots of competition and you have to provide solutions at a price that makes sense. Sure Flow is also constantly looking for new products to enhance what we provide to our customers."
When you spend time with Penni you get a sense of how she focuses on tasks, and how in her new role she's going to have to step back and take a broader view of all the moving parts in an complex, fast evolving organization like Sure Flow.
One gets a sense her activities away from the office will serve her well moving forward. She has co-managed a large farm that has evolved from animal management to its current focus on crops. There's been cattle and pigs and chickens, and currently there is an American Cocker Spaniel and a rough Collie roaming the property. And then there's Tom and Jerry, those Percherons she's driven in the past. Very few managers can actually say they know what's it like to "Take the Reigns" but Penni literally does! You need to be calm and focused, but those 2,000 pound behemoths need to know who's in command.
To help guide a successful company like Sure Flow into a future where change is a given and opportunity comes from those at the top of their game, Penni's skills are a perfect fit. Anyone one who has looked at horse in full gallop and marveled at the power and poise of such motion, has a good sense of why Sure Flow is in "good hands with Penni Boxall at the reigns."