"Never a dull moment" would be a good slogan to describe life as Sure Flow Equipment's Engineering & Design Manager. With the volume of work and the variety of projects coming across his desk (and computer), Justin LeBlanc is kept in constant motion and his days go by quickly. "Too fast some days!"
As Sure Flow Equipment's customers have demanded more custom fabricated industrial valves and strainers and increasingly complex designs, Justin has been responsible for overseeing the evolution of its Engineering Department into a state-of-the-art design facility. Offering customers increasingly sophisticated design solutions has become the signature of Sure Flow Equipment, and much of that can be credited to Justin's vision and oversight.
In the last decade that he's been at the helm, Justin has seen a huge variety of unique specifications required by Sure Flow customers and he is the point person in the engineering process. Sales people will coordinate to get the order in motion and Justin takes it from there. This involves the design work to meet the customer specs, approval by the customer and then coordination with the production team to get the fabrication underway.
"It's gratifying to be an integral part of the whole production process. We produce some amazing products for customers and there really is a pretty great feeling of accomplishment in seeing that end product ready for shipping" says Justin. "It may just be a dual basket strainer, but it's a wondrous piece of equipment when you understand what's gone into its creation."
Justin has been working with the engineering team to implement a number of the industry leading software applications that has kept them ahead of the curve on innovation. Sure Flow uses computational fluid design (CFD) to analyze how the liquid will flow through the product and to ensure this information is incorporated into the final design. They also use Codeware's 'Compress' Pressure Vessel Design Software. This is a specialized product to help engineers efficiently design and rate ASME B&PV Sec.VIII pressure vessels.
The American Society of Mechanical Engineers (ASME) developed the ASME Boiler and Pressure Vessel Code which regulates the design and construction of boilers and pressure vessels. ASME also works as an Accreditation Body which chooses independent agencies to verify, test and certify that companies using the ASME accreditation are conforming to the standards they set. Sure Flow uses software developed by one of the principal authors of ASME B&PV Sec.VIII which gives you an idea of their commitment to the public benefit of standards and safety codes that are part of the ASME.
The halls of Sure Flow are hung with a large number of quality certificates, and this commitment to quality is a hallmark of the engineering department which Justin oversees. "We believe 'Compress' Pressure Vessel Design Software gives us a competitive advantage by enhancing our engineering productivity while improving regulatory compliance and improving our work flows."
Justin LeBlanc's (P. Eng.) Engineering Degree is in Mechanical Engineering and he graduated from McMaster University which is noted internationally for the quality of its engineering programs, and is not too far from Sure Flow. As is so often the case, taking what he learned at university and applying it to real world scenarios was the great part of transitioning into his position at Sure Flow.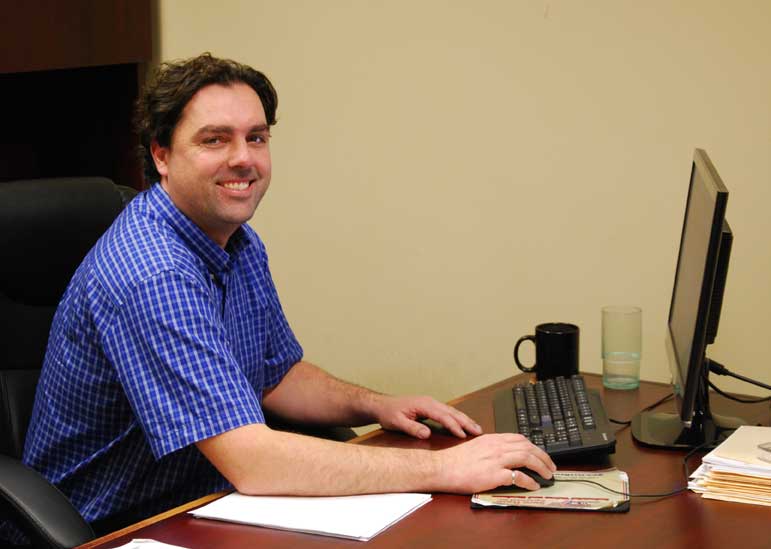 Like other employees that we've spoken to at Sure Flow, Justin enjoys the 'team' feeling, of cooperating with everyone to ensure the customer receives the highest quality final product. He also enjoys the 'family' environment at work. And family is something Justin is an expert in as the father of four. When we first tried to do this interview he was off for a few days just after the birth of his fourth. Anyone who has spent time with kids knows that it's pretty obvious that with 4, Justin is up for any challenge. He likes to spend his off time outdoors with the kids doing pretty much anything necessary to keep a crowd of kids occupied and focused … hiking, fishing, spending time at the cottage … using the 'fresh air helps to wear kids out' strategy.
Back at Sure Flow there is a steady flow of work through the engineering department, all of which funnels through Justin's desk. Many blog readers have probably had the opportunity to speak with Justin at one time or another. "That's one of things I like most about the job. When we get a unique project, I get to spend time talking with customers about their requirements and then coming up with a unique solution to meet that challenge. It might not seem as challenging as getting 3 kids (soon to be 4) to bed after a holiday sugar fest, but it ranks way up there."
With Sure Flow's Justin LeBlanc in charge of Engineering and Design, you can be confident that the quality of your custom fabricated project will be second to none.