The world of business, technology and regulations is a constantly moving and evolving target, and this often impacts many of our custom engineered designs at Sure Flow.
An older production line that was built to certain specifications may now have to be upgraded to meet new regulations, or quality targets that are constantly being upgraded.
The challenge becomes if you are upgrading or replacing just one piece of equipment in a production line. Unlike Lego blocks that are easy to remove and reconfigure, often the surrounding equipment cannot conveniently be moved or repositioned to suit a standard off-the-shelf design. Hence, Sure Flow's design and engineering team, where the attitude is how do we turn our customer's "We've got a problem with this installation" into "We've got a solution for your challenge!"
Case in point is a custom designed dual basket strainer we recently shipped.
It's going into a power facility where there was very little room allotted for the duplex strainer in the design of the piping system.
Unfortunately, with how busy the fabrication shop is right now, we neglected to get some good photographs while the strainer was in production.
When you look at this unit on the pallet ready for shipping it's kind of confusing exactly what's going where.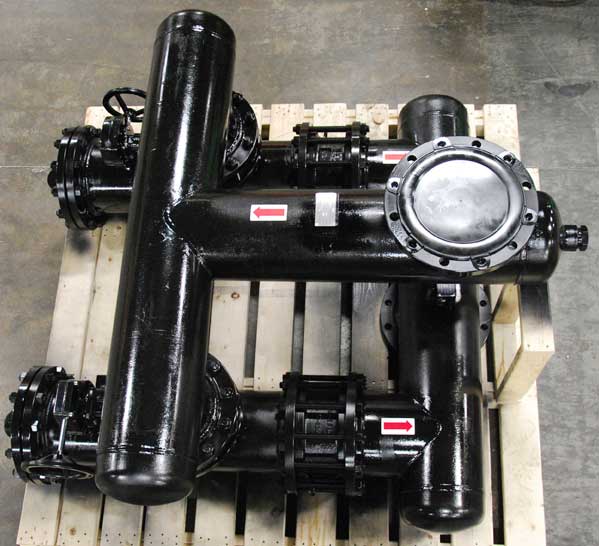 Since we know from past feedback our readers really like to understand what's happening with some of these exceptional custom fabrications, we've attached the design schematic to give you a better idea of how the unit is configured.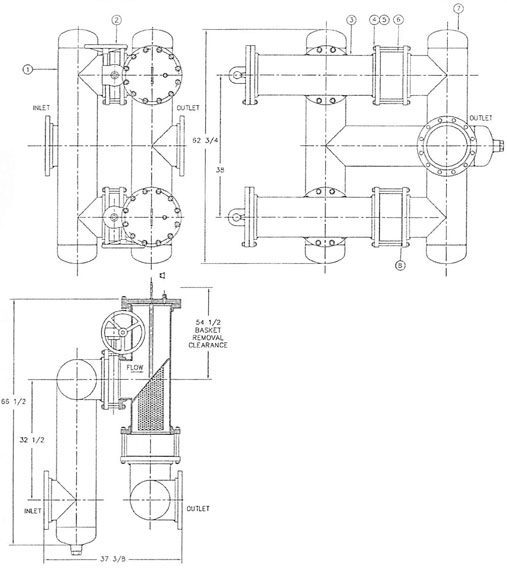 The inlet and outlet are directly in line with each other, but there was insufficient room for the installation of a standard duplex basket strainer configuration. The basket strainers are positioned to an area in the installation where there was sufficient room for the installation and for access for cleaning and maintenance.
As you can see from the drawing there are two check valves and two butterfly valves to control the flow to the basket strainer.
To say this is a non-standard dual basket strainer is an understatement. It is an extremely creative solution to a unique customer requirement.
But it is all in a day's work for the design professionals at Sure Flow.
There's the expression of being told to jump and the enthusiastic reply is "how high?" When we have a customer present us with a challenge like this, the whole team from design to fabrication to testing gets excited about the prospect of helping a customer get a product that does the job.
To figure out how to get that square block to fit into the round hole, or better yet, that duplex strainer fit into a space it was never supposed to fit in, ask the team at Sure Flow!