Sure Flow Employee Profile
John Zuber – V.P. Sales and Marketing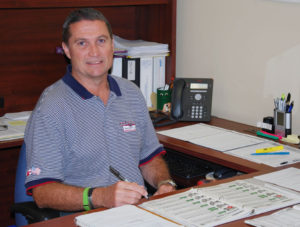 Sometimes you meet someone who is really enthusiastic about their job, and it just comes through as authentic. That's the impression you come away with after spending any time with John Zuber of Sure Flow Equipment.
John is the V.P. of Sales and Marketing and has been with Sure Flow for more than a decade. He worked previously in a variety of positions with companies working with controls, actuation, valves and related products. This extensive background has allowed him to focus now on project related work, particularly in the oil and gas industries.
While he spends a great deal of his time managing the day to day background work that keeps a busy shop producing product, he most enjoys his opportunities to interface with customers. Visiting customers and following orders through from the concept and quote right through to production and delivery is where he derives the greatest satisfaction from the work.
"I've been going to the East Coast now for more than a decade working with companies on projects related to Hibernia and now Hebron, and it's allowed me to build and maintain relationships with a number of customers I now call friends." While there is always a fine line you walk becoming too close in a business relationship, it does ultimately mean there can be an honest dialogue that's required to ensure everyone is happy with the project's progress. "Customers demand the kind of quality that is part of the Sure Flow process, but many projects have time constraints. And businesses are always price sensitive. So, it's always a challenge juggling all the components of any order."
The business climate is constantly changing and the current soft prices in oil and gas markets pose challenges for many of Sure Flow's long-time customers. There is not a great deal of production expansion with low prices and lots of competition for the existing maintenance work. But Sure Flow Equipment has weathered many business cycles over its decades and John continues to make sure all customers receive the care and attention to detail that's critical in a challenging business environment.
John also spends part of his time coordinating with resellers of Sure Flow products who offer complimentary products and processes. "Sometimes with technical products and processes such as ours it's best to work with companies that specialize in certain areas. It ensures our customers get the most complete solution possible for their production requirements."
When you combine the hundreds of years of industry experience Sure Flow staff possess and their diverse backgrounds, John always marvels at the opportunities for education that present themselves within departments such as sales, as well across the various fields such as engineering and manufacturing. "I know I'm constantly learning and like all Sure Flow employees I'm always happy to pass along my knowledge to other members of the team. We're sharing a pool of knowledge and everyone, especially customers, benefits." Personal growth is a daily way of life at Sure Flow.
Wanting to contribute to making things better continues in his personal life where John has been volunteering at the Burlington Family YMCA for almost two decades. Their "Strong Kids" annual fundraising campaign is focused on giving kids the opportunities they need to live healthier, happier lives.
With two kids in university John is well acquainted with personal growth and on-going education. He also has a strong sense of family ties which very much fits in with the philosophy that prevails at Sure Flow. It comes top down from CEO John Wordsworth's belief that the Sure Flow team is a family that supports each other in work endeavors as well as personally.
"We work to a common goal and that is to satisfy a customer's expectations. It makes Sure Flow a great place to come in to work every day. You face the challenges every family faces over time, but the long-term trajectory is always up and you get to see the personal growth of the family every day. It's a great team to contribute to and be part of."
Editor's Note: This is part of an on-going exploration of some of the staff at Sure Flow and what makes them tick. If you've been dealing with someone and want to learn a bit more about their background, drop us a line at info@sureflowequipment.com and we'll put them on the "To-Do" roster.