Sometimes random encounters seem to have a resonance with what's going on around them… if this makes any sense.
For 30 years Sure Flow Equipment's founder and CEO John Wordsworth has considered the business he created as a family. It still exists in a competitive, capitalist world, but his approach was to make sure his staff felt like a team, a family, working towards a shared goal of success by providing exceptional products, and it's created a unique feel about the work environment.
Regular readers of the blog will notice from our regular "Employee Profiles", how often Sure Flow staff refer to how much they appreciate the feeling of being part of the family that John has created.
That's why a chance meeting on a trip to the busy shipping department recently seemed synergistic. While taking photos of some oversized, custom fabricated strainers being loaded outside, we noticed something out of place. In amongst some shipping cartons was a hunting decoy. Or at least that's how it looked. It was a Canadian Goose, but it was not moving as we approached, indicating it most likely was plastic or wood.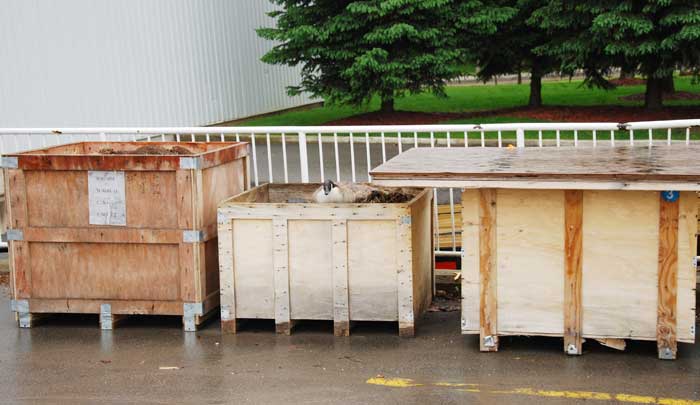 When we got closer though we realized it was in fact a goose, and she was sitting on a nest she had created. While most Canadian Geese prefer land based nests, this one had obviously decided to use the raised crate to her advantage, reducing the likelihood of ground predators finding the nest. Like most urban areas, we have no doubt that coyotes and raccoons frequent our area in the after-hours. In fact, we are just a few streets over from a major provincial park, making an encounter quite likely for this goose.
We liked her spirit. Sure Flow has always looked for ways to gain a competitive advantage over our competitors. Whether it's our Clean Welding room, or Computational Fluid Dynamic capability, or just our rigorous quality certifications from ISO to ASME to TSSA, Sure Flow always hopes to be 'the last man standing' in any competitive situation.
Mother Goose's wisdom paid off as the eggs hatched, and the area near our shipping area became home to Mom and Dad and babies. In fact, one morning on a regular walk around of the property, one of the goslings decided to explore part of the warehouse. Now that hot weather has arrived it helps in the fabrication facility to have the large loading doors open. Our C-PTAT and other security certifications prohibit leaving open doors unattended, so each door has a steel, locked accordion gate across it. The result is hole small enough for a baby goose (gosling) to wander through, but not a parent.
Mom and Dad were not happy with the situation and luckily some brave Sure Flow staff were there to immediately herd the one baby back outside.
As time has gone on the family has become a regular sight wandering the property which they have adopted as home. During a busy day of producing high quality industrial valves and strainers, watching a family of geese making the rounds can be a great stress relieving distraction.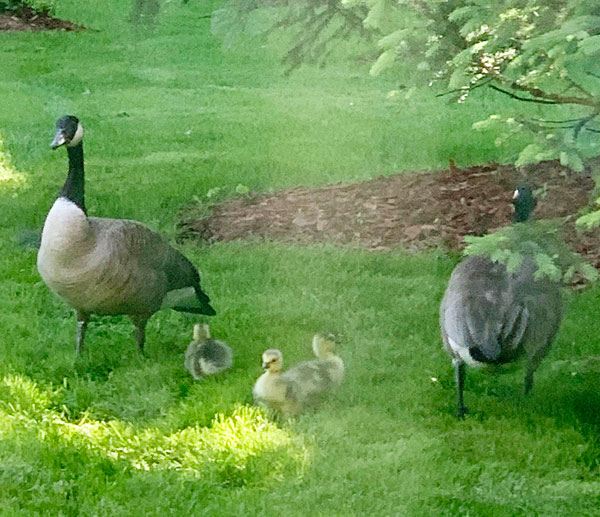 Mom and Dad goose remind of us the important things. Keeping the kids safe is first and foremost. Building strong and independent kids is another. And all the while knowing that one's prodigy is going to leave and go his or her own way is at the back of a parent's mind.
While watching one of our custom fabricated strainers being loaded on to a flatbed for shipping to a customer is not akin to watching the kids head off to school, there are some similarities. So many members of the Sure Flow family have had input to the creation of the final product. The sales team that liaises with customers. The fabrication team from engineers to welders poured their heart and soul into the product. The quality assurance members have ensured that the product meets or exceeds its requirements. On the surface it's a mass of steel to be used in an industrial process. On another level, it's a human creation that's had many individuals help shape the final functionality.
Growing up, Mother Goose tales provide kids with lessons to learn from. What we've learned in 3 decades at Sure Flow Equipment is in fact printed on our shipping boxes. At Sure Flow our story continues to be;
Stay at the top of our game every day – "Competitive";
Provide our customers with the best product available – "Quality";
Give our customer the attention to detail they demand and deserve – "Service".
When you receive a product from Sure Flow Equipment you'll know the family philosophy is on the box, Competitive, Quality, Service!