You have no doubt noticed that at Sure Flow we seem to talk a lot about some of our big fabrication projects. We also like to show photos of these products being fabricated, and being tested, and being loaded on to trucks.
The reason is pretty simple. It's because custom-fabricated large, impressive, functional, high-quality products, are what we do at Sure Flow Equipment.
Our customers are always challenging us, pushing us to find the best solutions for their engineering requirements, and we just keep coming back with solutions. Customers say "Jump!" Sure Flow says, "How high?" and "Will you require Viton seals for this application?"
It would be easy to stay in the comfort zone of custom fabrication of smaller sized industrial valves and strainers. They're easier to move around the shop floor. They are easier to ship. No need for warehouse sized cranes. No need for specialized trucks for shipping. That may be how our competitors think, but we think the opposite.
We love the small work. And we love the big work. We simply love a challenge and our team always rises to the challenges required for any job, any size, any material, any specialized fabrication work.
When Sure Flow Equipment says, "No job is too large or too small" we mean it. And the pages of our blog and Product Gallery (https://www.sureflowequipment.com/product-gallery/) are living proof of the variety and diversity of products we fabricate.
Our latest massive dual basket project is a case in point of customers needing our expertise in providing state-of-the-art solutions to their engineering projects.
This is one of two identical dual basket strainer units that are destined for California. They will be used for cleaning the circulating cooling water prior to being pumped through the heat exchangers in a power generation facility. The heat exchangers have small holes, which is hard to visualize when you see a unit this size.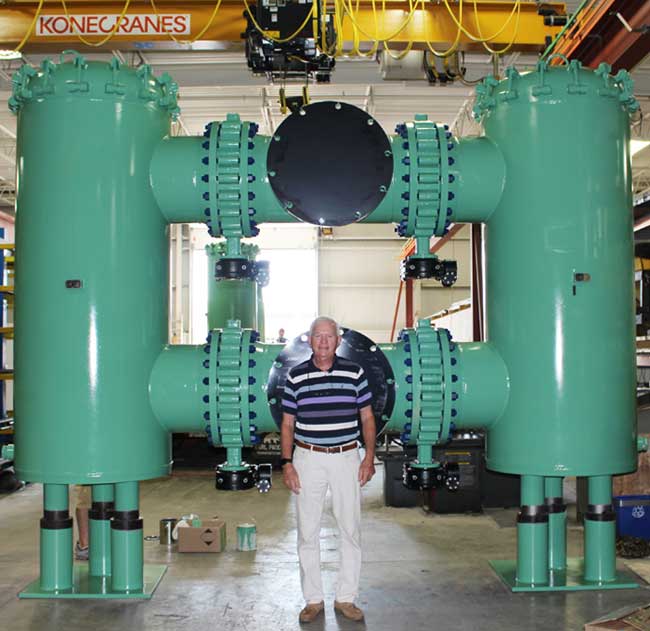 The units will be installed in a saltwater atmosphere, hence the special paint you see on the unit. Again, there are very few situations where we can't come up with a solution.
One of the other unique features of this unit is the adjustable legs. These will aid with the final installation in the piping system. They allow the unit to be adjusted to just the correct height, to make a perfect connection and ensure the perfect fit.
You get a sense that the engineers who will ultimately install this unit will be thinking what a pleasure it is that someone had thought this through. Someone knew the challenges with installations of this size and nature and took the time to provide a solution before anyone had spotted a problem.
That's the way our Sure Flow team works. Sure, we can provide a product to your specs, but we'd much rather delight the end user and these subtle tweaks are just part of that service. We want to make sure to incorporate features most beneficial to the customer.
The individual parts of the units are impressive on their own. Here is the center unit which includes two butterfly valves for directing flow.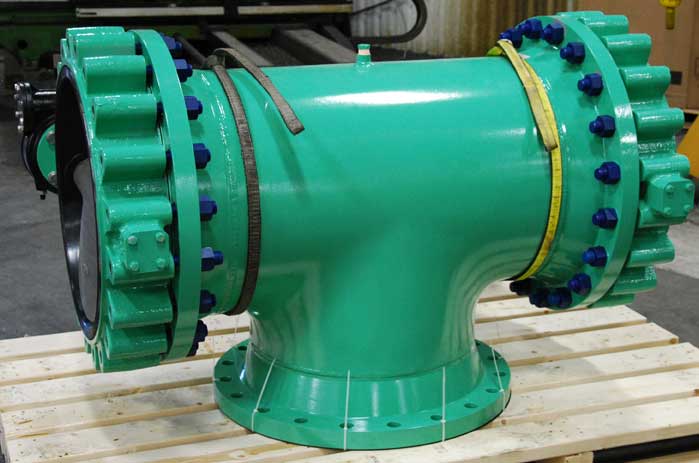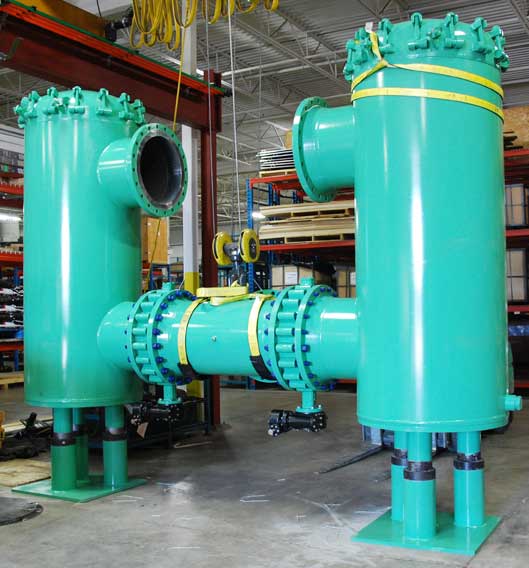 The individual parts are indeed impressive, but once assembled it proves the adage "the whole is greater than the sum of its parts."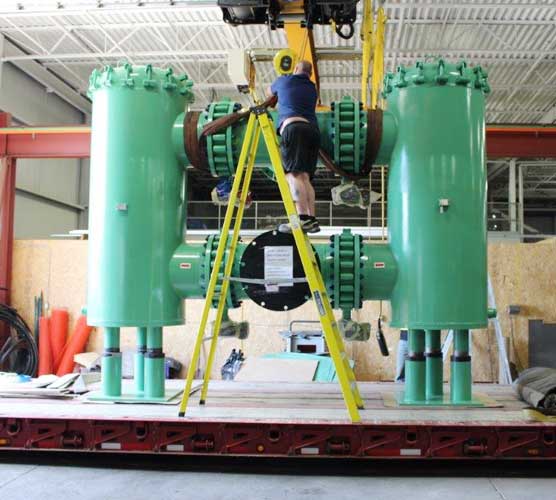 With a unit this size we couldn't use a typical flatbed trailer. We required a low-profile trailer to ensure it would comfortably navigate the many bridges that it will encounter on its journey.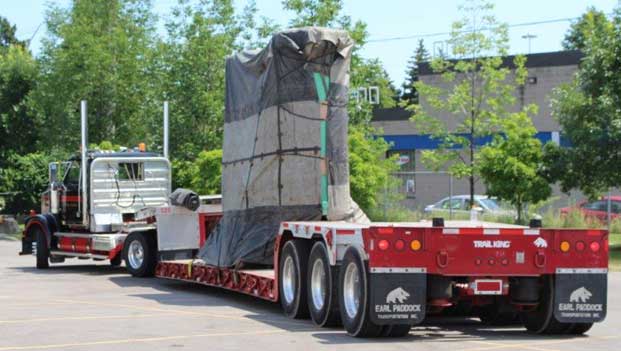 Oh, and don't try this with your garage door at home. This is a pretty specialized garage door that this unit had to fit through once it was loaded on the truck. This is the big leagues of industrial production and Sure Flow is geared up to handle projects of this size. No challenge is too small or too large for the Sure Flow team!