We talk a lot about power generation on the Sure Flow website, and that's because we have a lot of experience in this area. We make quality industrial strainers, and the power industry uses a lot of water and liquids for cooling and steam generation in the production of electricity. That water or liquid can have impurities which could be detrimental to downstream equipment and the efficiency of these varied processes, so it needs to be cleaned, and that's what we do. And we do it well.
We were just at the Power Generation 2019 show and, as always, we met a lot of exceptional people. https://www.power-gen.com/index.html   Once again we took our "Demo Strainer", which is fabricated with many of the common screens and mesh in various materials that we use for our product. Many of our customers don't always get a chance to get out and see our final products in operation, so it's a great chance for them to see exactly what a 1/16" stainless perforated screen looks like.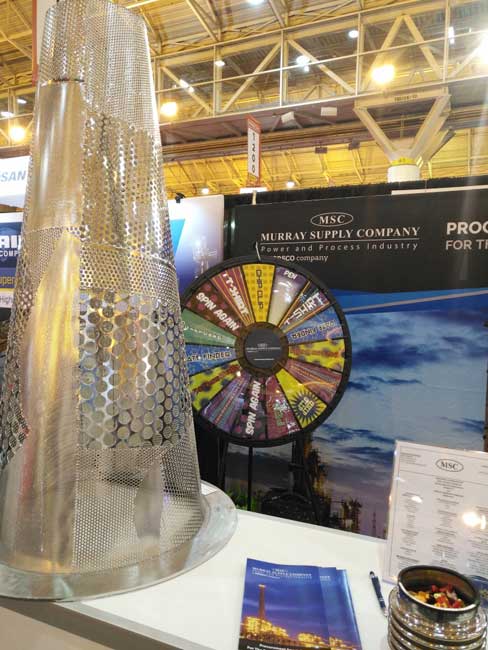 We enjoy meeting the people who deal with the challenges of this industry, and trying to find a way to save them money or make their systems more efficient and cost effective.
As we've been thinking about this concept of 'Power Generation', we were playing with words… power generation… generation power… and we started to think about some of the other happenings at Sure Flow these days.
One of the big upcoming events is the retirement of Sure Flow Equipment founder and CEO John L. Wordsworth. Then we realized John has been running Sure Flow for most of his adult life and he's been supplying the power generation industry the whole time. He's spent the better part of his working 'generation' supplying this industry. And now John's daughter Jessica is working at Sure Flow. The second 'generation'.
Lots of changes happen in a 'generation', especially these days. Some of us had grandparents who traveled by horse and had oil lamps. Our parents grew up with radio as entertainment, only to be overwhelmed when a box with moving pictures came into their homes. Some of us spent our youth debating '8 Track' vs Cassette tapes, and arguing that CDs would never take off. Kids today use Wi-Fi to stream music on phones with more processing power than the computers that put Apollo 11 on the moon. They video chat with people on the other side of the planet using those same phones… while their parents remember watching the video phones on "The Jetsons" a generation ago and thinking they'd never see that in their lifetimes.
The one common thread that runs through these generational changes is that wondrous electrical current that the power utility delivers to our homes. It keeps homes bright in the dark, keeps water flowing and toilets flushing, our food cold, cooks some of our food, and now powers the infinite sources of entertainment we enjoy and the commerce that we all participate in, 24/7.
We don't think much about this wondrous luxury, until Mother Nature decides to interrupt its flow, and then we realize what a big deal it really is.
Sure Flow Equipment now has the second generation receiving the torch to continue our work with the power generation industry.
Like the luxury of electricity that makes our lives today so amazing, we do not take our servicing of the power industry for granted. It is a privilege to serve such an essential industry, to help it continue to improve, to help make it more dependable, to help it continue its remarkable service to society.
If you were at Power Gen and didn't get a chance to stop by, please give us a call and let us know if you've got a project we can help with. We are proud to serve your industry and would love to help.