In the continuous pursuit of safer products and reduced downtime in their maintenance, many industry engineers and designers are updating their specifications to require closures that are quick opening while at the same time don't require tools.
Sure Flow Equipment is always on top of any changes in the marketplace so not surprisingly we have supplied many our customers with these types of innovative closures. The design utilizes an outer flange or hub which has a groove machined into it, where a locking ring slides. This provides a secure seal once the locking ring is expanded into a closed position.
These types of closures are common in the oil and gas industry and can be used in a variety of applications involving a pressure vessel which requires frequent access. They are available in stainless steel, carbon steel and other alloys and will include an elastomer lip seal material that meets the temperature and process compatibility of the customer's requirements.
A unit with this type of closure allows for fast and easy operation which can be completed by one person without special tools.
Above all, these units are extremely safe. A pressure warning device assures a pressure warning as well as mechanical locking of the closure before operation. This system also alerts the operator to any residual pressure should the operator inadvertently try and open the closure before all pressure has been relieved.
The units in the following photos are basket strainers installed in a vertical position. The closures in this case are on the top of the unit and are a significant weight. Each of these units is therefore provided with a Davit Assembly. This attaches to the cover and allows the user to easily swing the cover away to facilitate removal and cleaning of the basket or screen.
The units shown are for high pressure operation, are a 12" size and made from Carbon Steel. The have an ASME Stamp and CRN for the province where they were installed.
We've labeled some of the additional features of these products. They may seem like just another basket strainer, but like all our custom engineered products they are not "just" basket strainers. They are exceptional solutions to complex engineering challenges.
Here is one of the quick opening closures that does not require tools to open before installation on the high-pressure basket strainer.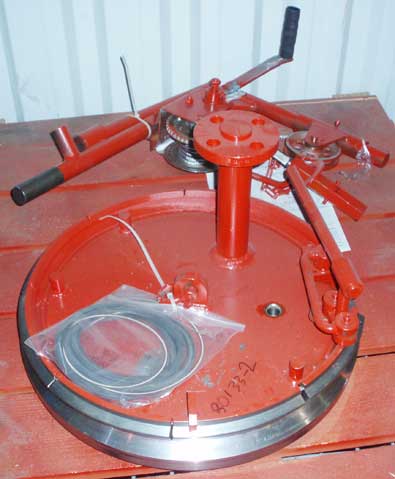 Here is a 12" carbon steel high pressure basket strainer with the Davit Assembly installed.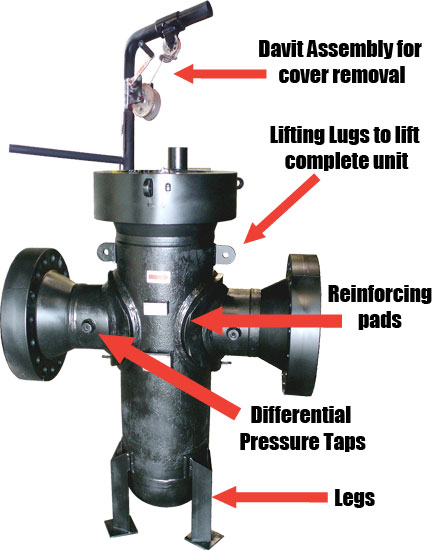 The strainer unit below also shipped with a Davit to aid with cover removal, it just wasn't installed for this photograph.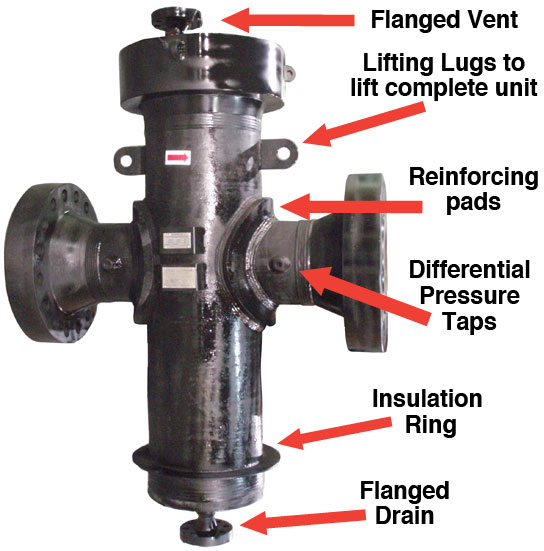 Here is a typical order for Sure Flow, with a large number of units! These are high pressure basket strainers with the quick opening closures, and davit assemblies strapped to the pallet ready for shipping and installation at the customer's.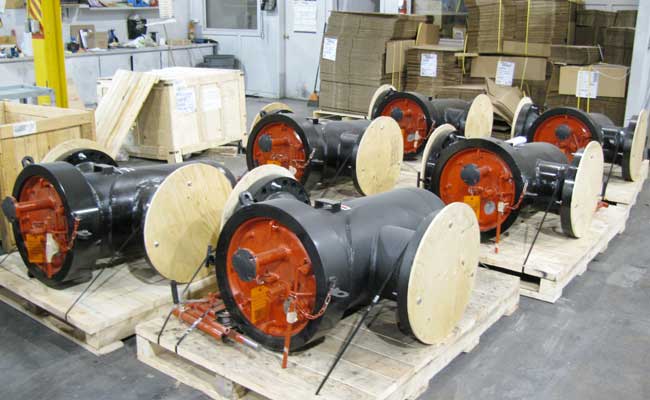 There is a mind-boggling variety of materials and sizes and options such as quick opening closures that a strainer being used in an industrial process may require. There are very few options that Sure Flow Equipment doesn't have extensive knowledge in. These quick opening closures that do not require tools to open are just one more of the options we have expertise in, and that make us an indispensable part of our customer's product specification and custom fabrication process.