Since our founding almost three decades ago, Sure Flow Equipment has been committed to several principles.
First is to provide the highest quality products and exceed our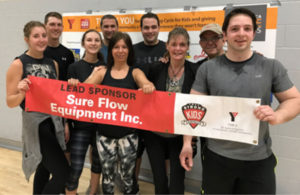 customers' expectations. The second is to ensure that we treat everyone that we deal with in a professional manner and that we treat them well, not just customers, but suppliers and employees. And we extend that beyond our business to ensure we give back to our community.
Over the decades we have sponsored many teams and groups and participated in a variety of community fundraising events. We feel we are blessed to have had such success and want to make sure we share that with worthy causes.
Our Vice President of Sales and Marketing, John Zuber, has been a motivating influence on one such outreach program. John is active in the local YMCA and each year rallies our team to participate in their "YMCA Cycle for Kids" Campaign.
The campaign's goal is to ensure that children in our local community have the unforgettable opportunity to attend recreational, after school and camp programs provided by the YMCA. Without fundraisers like this it would not be possible for so many kids and their families to enjoy the benefits of such programs.
John recruits a willing team from Sure Flow each year to participate in an epic group ride on stationary bikes at the local YMCA. These are the people you may talk to daily when you interact with Sure Flow. They work all week and then give up a Saturday morning to give back to their community. We think they're pretty great! The fact that it's a great way to get in a little cardio is just an added bonus.
We are very proud of their participation in events such as these. We think it speaks to the bigger picture of how important it is to give it your best, whether expediting an urgent shipment, or spending time helping others.
Thanks to the team for their awesome efforts!