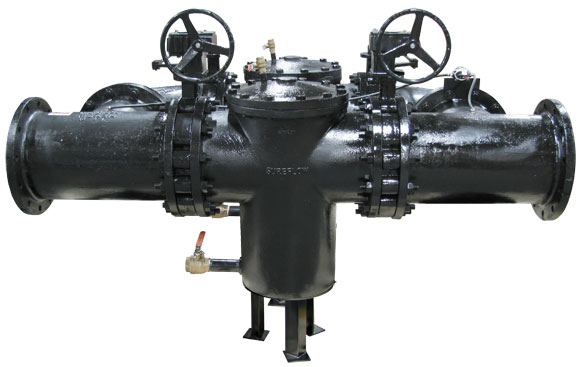 This BDB125 14 Inch Type 2 Custom Fabricated Dual Basket Strainer uses Class 125 cast iron construction. It includes flat face inlet and outlet flanges.
In the upper right you can see part of the differential pressure gauge assembly, with a hose running directly in front of it, and the other stretching to the far side of the unit.
This configuration utilized butterfly valves for isolation with gears and slave linkages. The slave linkages allow one operator to open or close all four valves from the side of the strainers instead of having to go to both sides or have two people complete the switch over.
The unit has NPT vents visible on top, and NPT drains on the bottom, all using quarter turn ball valves.
The basket strainers are sitting on custom fabricated carbon steel stands to support the weight of the complete unit.
Return to Sample Custom Fabricated Dual Basket Strainer Menu