DB150 16 Inch Carbon Steel 150 Dual Basket Strainer for Condensate Extraction
This unit is a 16-inch dual basket strainer, featuring class 150 carbon steel construction. 
Our compact design features offset inlet and outlet which is common in many of our units.
The units included lifting lugs on the cover to aid in cover removal.
You'll notice four lug style butterfly valves complete with gears for isolation.
This order included a special external coating for operating around sea water/ocean/ i.e. in a marine environment.
These dual basket strainers will be operating in a power production facility. They will be straining cooling water on the suction side of a condensate extraction pump (CEP).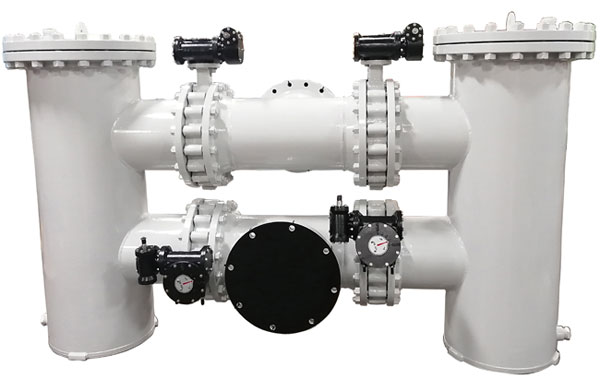 Return to Sample Custom Fabricated Dual Basket Strainer Menu