The unit is a DB150 3-inch carbon steel dual basket strainer.
It features carbon steel construction.
This unit has butterfly valves with levers on the inlet side for isolation valves. But on the outlet side it actually features check valves. With check valves as part of the isolation configuration, a unit like this ends up with fewer levers or gear handwheels to turn when switching from one side to the other. With this unit the operator would only have to turn deal with two butterfly valves.
On our units with 4 butterfly valves, the operator would have to turn all 4 butterfly valves when switching from one side to the other.
At the bottom of each strainer unit you'll notice 1" flanged drain connections.
Like many of our fabricated dual basket strainers, it features a compact design with short face-to-face, and offset, inlet and outlet connections.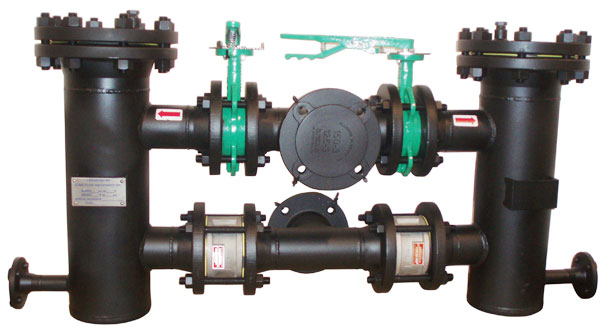 Return to Sample Custom Fabricated Dual Basket Strainer Menu