Injection Gas Cooling Dual Basket Strainer
This is a 14" dual basket strainer custom fabricated for an injection gas cooling system in an offshore oil platform. It has a ASME "U" Stamp and is constructed from Class 150 carbon steel.
For isolation it has triple offset high performance lugged butterfly valves with gears. It has NPT ball valves on vent and drains. It includes quick open covers with hinges. It has differential pressure taps on inlet and outlet manifolds. The unit has feet on the bottom to bolt in place because it was installed on an offshore oil platform. It also includes lifting lugs to lift the complete unit into place.
It has an external epoxy coating for the extreme marine environment in which it would be working. Our engineering department fabricated the unit with compact face-to-face design with offset inlet and outlet.
This is an exceptionally well engineered and rugged unit for an extreme environment.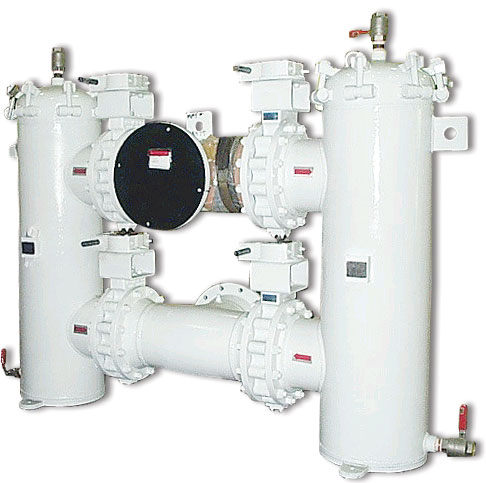 Return to Sample Custom Fabricated Dual Basket Strainer Menu