Overview Duplex Strainers
Cast Iron, Cast Steel, Cast 316 Stainless Steel, Cast Bronze
Threaded (T) and Flanged (F) ● Sizes 3/4" to 4"
Type D125CIT & D125CIF Cast Iron; D150TCS & D150FCS Cast Steel;
D150TSS & D150FSS Cast 316 Stainless Steel; D150TBZ & D150FBZ Cast Bronze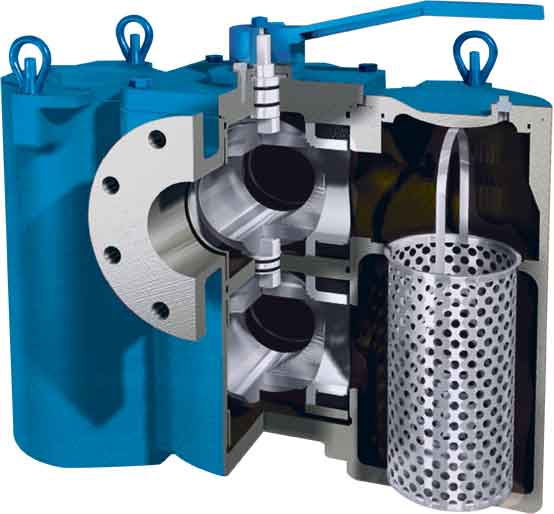 The Sure Flow Duplex Strainer removes dirt and debris from pipelines and protects sensitive system components. The duplex features a design that makes strainer basket servicing a no-hassle operation. The duplex keeps the chamber from overflowing during service. This gives you time to clean or replace the strainer basket without ever having to worry about leakage and overflow. And … without overflow, there's no need to clean up after servicing the strainer basket.
A unique flow diverter valve cartridge design isolates the two strainer basket chambers and prevents fluid bypass. An easy-to-turn handle operates the cartridge and diverts the system flow from one chamber to the other — the flow in the pipeline is never shut off.
When a strainer basket needs to be cleaned, the lever handle is turned to take it out of service and to divert the flow through the other chamber. The position of the handle clearly indicates at all times which chamber is in service.
No special tools are needed to access the strainer basket for cleaning. The chamber is first drained and then the cover is lifted and swung clear of the chamber opening. The dynamic diverter cartridge seals prevent fluid bypass into the out-of-service chamber — making for easy, hassle-free strainer basket servicing.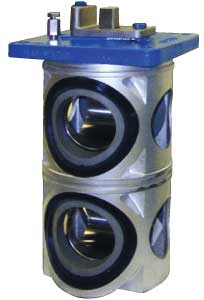 A minimum of parts, easily replaced, makes service a snap. Exploded view shows simplicity of design.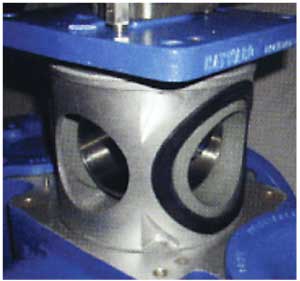 Should the diverter valve require service, it slides right out the top of the strainer body.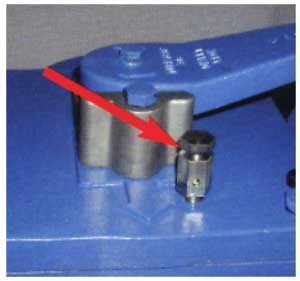 Standard body vent on top of strainer makes venting quick and easy.