The Web is part of a line of Motorized, Automatic Self-Cleaning Strainers.
The Web allows for continuous uninterrupted and unattended debris removal.
The Web's unique strainer element design permits installation in virtually any piping system operating at a positive pressure.
The Web can operate through a wide range of operating pressures (5 psig minimum) and solids loading with effective debris removal and backwashing across the entire pressure range. Additionally, only one drain/backwash connection is required for installation, effectively eliminating the expense of a separate backwash pressure connection.
Strainers are used to protect equipment such as valves, pumps, meters, heat exchangers or spray nozzles, as well as in-feed water and process water applications or virtually any similar application.
The Web Model SFA Automatic Self-Cleaning Strainers are fabricated in pipe sizes ranging from 1″ to 48″ to suit most application requirements.
Proven Features Include:
• Patented rugged screen and mechanical assist backwash mechanism extends useful service life.
• Unique clog-resistant straining element reduces maintenance downtime.
• Unique adjustable accelerator plate aids cleaning in difficult applications.
• All internal replacement parts supplied in corrosion resistant material.
• Efficient new design reduces maintenance requirements; requires fewer parts.
• Flats for manual operation in case of power failure.
• Low rpm backwash mechanism provides more efficient cleaning, less wear of internals.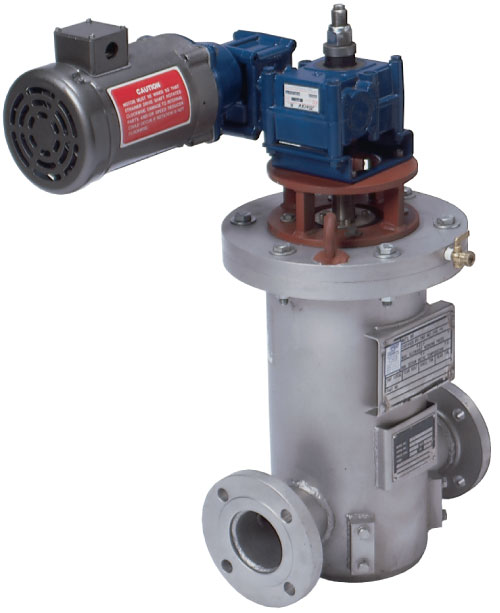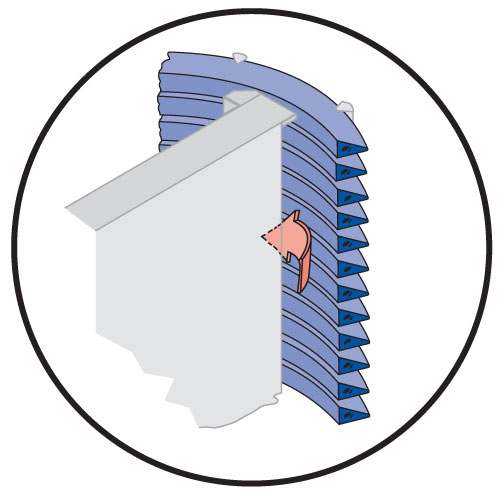 Straining Element
The Webs feature a revolutionary reverse rolled wedge-wire straining element (Fig. 2) that is extremely rugged and more clog-resistant than conventional strainer elements that use perforated plate or wire mesh screens.
This proven state-of-the-art straining media is fabricated by wrapping vertical rods with wedge shaped profile wire. Each intersection of rod and wire is welded to produce an extremely rugged one-piece element. This forms a continuous slot that allows only two point contact with debris particles to reduce clogging.
The wedge shaped profile wire reduces the possibility of retaining debris smaller than the screen opening which historically has been the cause of premature clogging or failure of competitive screen designs.
Advantages of Wedge Wire Straining Element
• Maximum effective flow area and maximum operating efficiency are maintained throughout service life.
• Maintenance costs are reduced drastically due to reduced clogging and stapling of fibrous material.
• Long-lived straining element provides reduced operating costs over entire service life.
• Rigid element prevents flexing which can cause premature element failure.
• Efficient, effective debris collection at media/screen interface.