Specifications and Applications Butterfly Valves
Specifications and Applications
Sure Flow Butterfly Valves are an excellent choice for your Butterfly Valve requirements. They combine the cost effectiveness of an economical Butterfly Valve with the performance you expect in a high quality Commercial, HVAC and Industrial Butterfly Valve.
Specifications
All Sure Flow Butterfly Valves meet API-609, MSS SP-67, and ISO 5752 face-to-face dimensions. Butterfly Valve sizes from 2″ to 12″ are rated at 250 psi WOG service and valve sizes from 14″ and larger are rated at 200 psi WOG service. All Butterfly Valves are full rated on dead-end service. All Butterfly Valve bodies are ductile iron 65-45-12. They are bi-directionally tested in both directions and are bubble tight with zero leakage. Lug style bodies are full rated and suitable for ASME Class 125 and ASME Class 150 flanges. Wafer style bodies are suitable for ASME Class 125, ASME Class 150, JIS, DIN or B.S. flanges. Secondary seals are self-adjusting. All elastomers and all internal bearings are non-corrosive and non-metallic. EPDM seats are suitable for 250°F sustained high temperature and capable of 2000 ppm on chlorinated applications.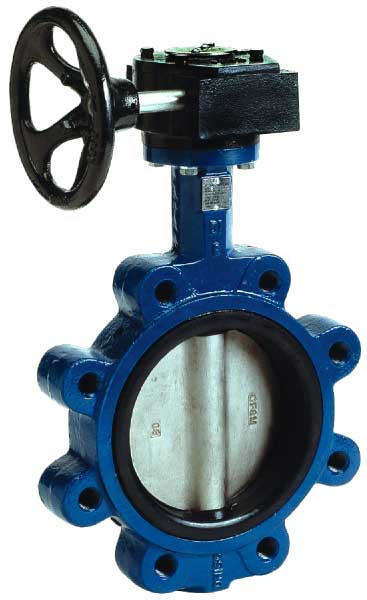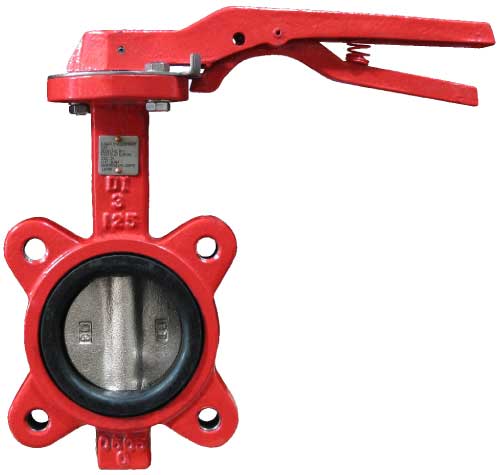 Testing
All valves are factory tested on both sides for bi-directional installations to zero leakage and bubble tight.
Typical Applications
• On/off isolation
• Dead-end service/removal of downstream piping
• Heating, ventilation and air conditioning systems
• Industrial process piping
• Municipal raw water intake
• Municipal chlorinated water systems (2000 ppm)
• Municipal feed water and reservoir
• Throttling and process control
• Full vacuum
• Aeration and blower installations
Features and Benefits
Extended Neck – Allows for 2″ insulation
Ductile Iron Body – High Strength body when in tension (lug body)
Non-Corrosive Bushings – Elimination of shaft to body seizure
Cartridge Seat – Excellent in full vacuum distortion proof primary shaft seal, minimal seat movement and consistent displacement on closing
Two-Piece Shaft, Splined – High torsional capabilities with zero disc deflection