Welding Test Procedure
Sure Flow Equipment Inc. has developed numerous weld procedures to meet our clients particular specifications, targeted for specific or general applications. This would entail unique material specifications, specific weld processes, specific thicknesses and weld positions, specialized destructive testing, and NDE. Specialized destructive testing takes place at established/respected certified national/international laboratories.
Our weld procedures include such materials as: duplex stainless steels, Cr-Mo steels, titanium, Hastelloy, Cu-Ni, as well as carbon and stainless steels. All of the weld procedures are reviewed and certified by the provincial regulatory authority / ASME Authorized Inspection Agency, the TSSA.
Along with standard testing such as tensile tests, and bend tests we have extensive experience with:
Toughness Tests (Charpy V-Notch Impact Test)
Hardness Testing (NACE Standards)
Ferric Chloride Pitting Test
Ferrite Fraction Evaluation
Macro Examination
Microstructural Examination
Hydrogen Induced Cracking (HIC) Test
Sulfide Stress Cracking (SSC) Test
Sure Flow Equipment Inc. has an ASME "U" Code Stamp Fabrication Shop and as well is an ISO 9001 Certified Company.  We have "CLEAN ROOM" facilities for the fabrication of specialty metals product.  All of our welding machines as well as our inspection equipment are calibrated.
The first photo shows test specimens and weld coupon remnants from a Cr-Mo weld procedure.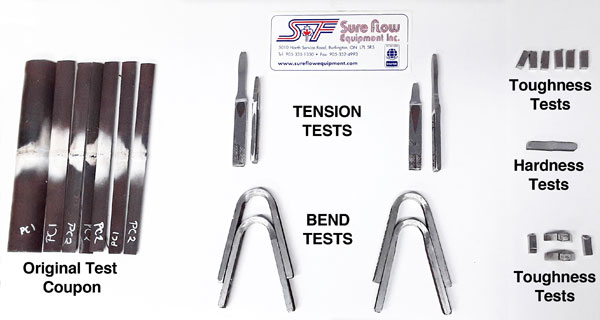 The second photo below shows weld coupons from a stainless steel weld procedure.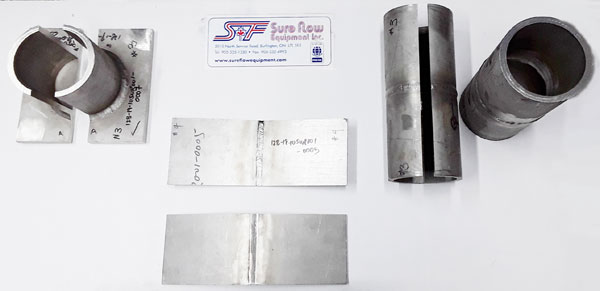 The third photo below shows weld coupons from a carbon steel weld procedure.