YFC150J Cast Steel Y Strainer
YF150 / YF150SS – Cast Steel / Cast 316 Stainless Steel
Class 150 Flanged End Connections
Sure Flow Class 150 ASME Flanged strainers are available in Carbon Steel and Stainless Steel. A machined, tapered seat ensures a perfect fit for the removable, stainless steel screen. Size 2" and larger come complete with flanged blow-off cover, gasket & plug. 1 1/2" and smaller come complete with solid threaded cover and gasket. May be installed in vertical or horizontal pipelines with blow-off connection at the lower end of the screen. Construction Carbon Steel – Body, Cover – ASTM A216 Grade WCB Stainless Steel – Body, Cover – ASTM A351 Grade CF8M All screens are Stainless Steel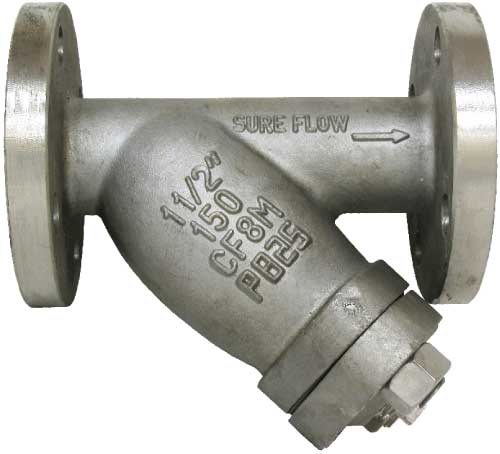 Notes
• Must specify if for steam service
• Sizes 14" and larger are available in Cast Steel only.
Manufacturer reserves the right to modify dimensions, materials, or design. Consult factory for certification.
Construction
Carbon Steel – Body, Cover – ASTM A216 Grade WCB
Stainless Steel – Body, Cover – ASTM A351 Grade CF8M
All screens are Stainless Steel
Ordering Information
Example: Include full description
Size Model Screen
(Prefix) Number Opening
0400 YF150SS 125
4" Flanged, Y Strainer, Cast Stainless Steel, Class 150 ASME Flanges, 1/8" Perf Screen
Standard Screens
Size Standard Opening
1/2″ – 1 1/2″ 1/32″ perf 0.032″
2″ – 3″ 3/64″ perf 0.045″
4″ – 24″ 1/8″ perf 0.125″
Part Number Reference

Many of our customers use the website to search for replacement items and parts. In the case of this YF150 Cast Y Strainer, your Sure Flow reference may be:
YF150, YF150SS, YFC150, YFC150SS, YF150J, YF150JSS.
If you add the size of the strainer as well, you may find it referred to as:
0400YF150, 0800YF150SS, 1000YFC150, 1200YFC150SS, 1400YF150J, 1600YF150JSS.
0200YF150J, 0400YF150J, 0500YF150J, 0600YF150J, 0800YF150J, 1000YF150J, 1200YF150J, 1400YF150J, 1600YF150J, 1800YF150J, 2000YF150J, 2400YF150J