YTC1500CM Cast Chrome-Moly /
YTC1500SS – Cast 316 Stainless Steel Y Strainer
NPT or Socket Weld Connections
Sure Flow Class 1500 ASME Strainers are available in Stainless Steel and Chrome-Moly WC6. A bolted cover allows for quick, easy screen removal and a machined, tapered seat ensures a perfect fit for the removable stainless steel screen. This Strainer may be installed in vertical or horizontal pipelines with the blow-off connection at the lower end of the screen.
Blow-off drain to be in NPT or Socket Weld. Please specify.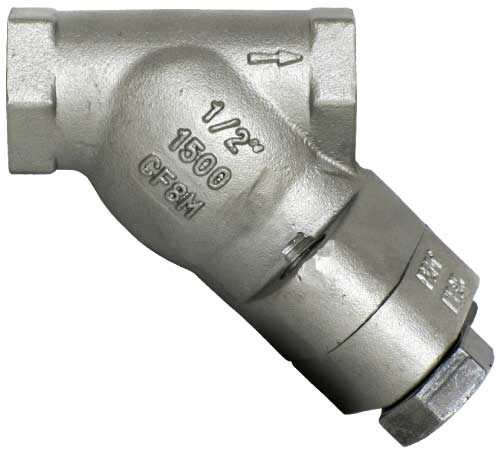 Notes:
• Must specify if for steam service
• Manufacturer reserves the right to modify dimensions, materials, or design.
Consult factory for certification.
Construction
Chrome-Moly – Body, Cover – ASTM A217 Grade WC6
Stainless Steel – Body, Cover – ASTM A351 Grade CF8M
All screens are Stainless Steel