Sure Flow Equipment stands out from our competitors for many reasons … the size and variety of our ready-to-ship inventory of industrial valves and strainers, the breadth of our quality certifications, the capability of our engineering, design and fabrication team, and most of all, the variety of products our team fabricates.
One recent order was particularly memorable.
This FW150 was custom fabricated for a customer in the petroleum industry. It is made from carbon steel and will be used for a lubricity additive. This additive will be blended with fuel, so it would not be compatible with copper and brass and certain elastomers.
As with many of our custom fabricated projects, this strainer required a special colored paint. In a special production line with a special blending process taking place, you want to make sure that the strainer stands out. In this case the paint was specified by the customer and will help to ensure this.
With the special blending nature of the production line where it was being installed, Sure Flow provided a variety of Non-Destructive Examinations (NDE) for the customer. This type of testing does not affect the article being inspected so is extremely valuable in terms of saving money and providing quality assurance. Non-destructive testing uses sound, electromagnetic radiation and other techniques to examine products for integrity, composition and condition.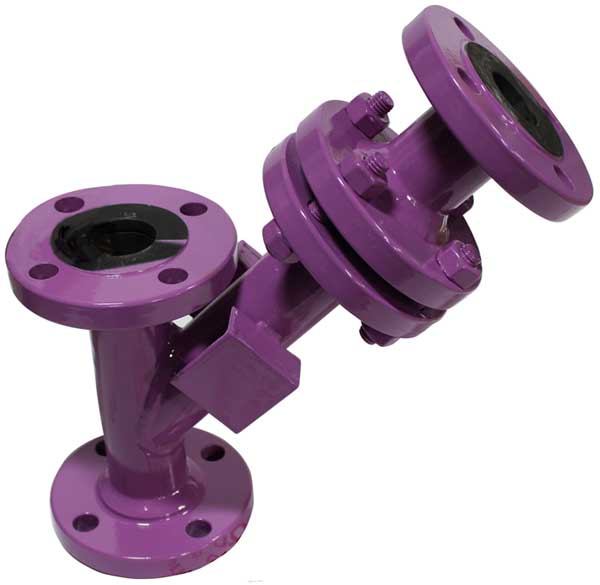 Sure Flow can do some testing in-house and relies on outside experts for other more specific tests.
We use an in-house handheld PMI Positive Material Identification Analyzer, for instance. Within five seconds we can provide a full traceability of any alloy; plus download the analysis to provide a Material Test Report (MTR). We can readily supply in-house Material Test Reports for castings, welding rod, wire and all piping components, etc., to validate material composition.
Color trends come and go, especially for the household and residential sector. In the case of this latest custom fabricated FW150, the unique color probably isn't going to impress dinner guests where it's being installed, but it will standout and help our customers provide a unique product while being accessible and visible for maintenance.
Standing out from the crowd … that's just what Sure Flow Equipment does, for all the right reasons!
You can learn more about our fabricated Y strainers here: