The engineering department at Sure Flow Equipment is often called upon to custom design systems for complex applications. Many of our customers have come to trust our engineering team as the "go-to" professionals to work with from the early stages of a project.
Others have learned that when other companies aren't up to the challenge, they can still rely on Sure Flow to "step in and pick up the pieces."
Here is a typical example.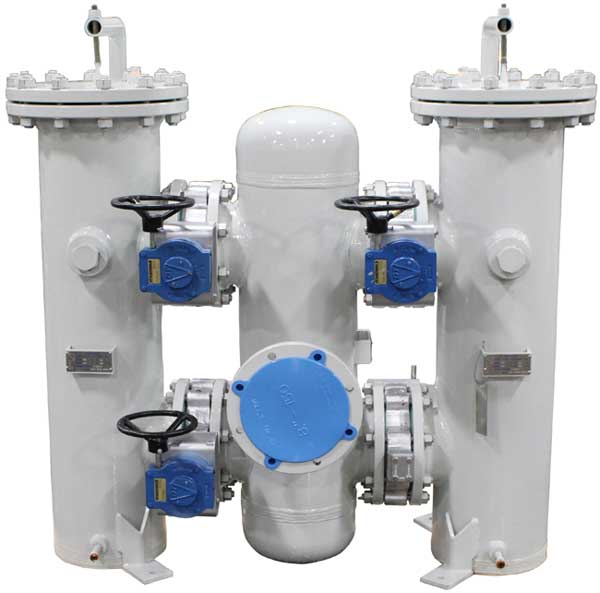 This is an 8 inch x 12 inch DB150LT custom fabricated dual basket strainer which features low temperature Class 150 carbon steel construction.
The bolted covers include davits to aid in maintenance. It has high performance lugged butterfly valves with gears for isolation. It includes feet on the bottom which allow it to be bolted in place because it is installed in an extreme offshore oil operating environment.
The external epoxy coating is also designed for the salt water/offshore installation.
It includes a compact face-to-face design with inlet and outlet on the same plane.
This exceptional unit was custom designed by our engineering department to the same envelope dimensions as a competitor's cast unit which required direct replacement. It is a typical example of Sure Flow's expertise in custom fabricating systems for the oil and gas industry, including in offshore extreme operating environments.
In this case our competitor's unit simply was not up to the challenge of the operating environment. Our Engineering department's custom designed and fabricated unit did the job.
The flat cover was used because the previous quick opening cover could not be epoxy coated. This was because the O-ring and the channel were becoming attacked by the salt water.
This is nothing out of the ordinary for Sure Flow. When you talk to Sure Flow's V.P. Engineering and Design Justin LeBlanc you understand why so many industry professionals have come to rely on Sure Flow as their first and only stop when scoping out complex straining and filtration requirements in an industrial process.
First off, Justin is just one of those individuals who you can immediately tell has an intimate knowledge of what is required of a situation and the optimal product and system to solve the challenge.
Just as important though, is the sense you get when you present your unique requirements to Justin is that he is one of those people who rises to any challenge and thrives with providing a solution. That's not something that can be learned in an engineering school, although that is where Justin got his start. An innate sense of the best solution is just something that comes naturally and Justin shines in this respect.
For our customers, that results in solutions to challenges, and outstanding products. We feel fortunate that we can offer this kind of service and enthusiasm. We also understand why so many of our customers get Justin involved early in their process. It just saves headaches down the road.
Isn't it time you picked up the phone and got Justin working for you?