Sure Flow Equipment manufacturers a huge number of unique industrial valves and strainers. In fact, when you look at all the options and variables you start thinking of those algorithms that just get too high with so many possible combinations.
Some of our products are fairly basic, like 'simplex strainers.' These are the most basic strainers because the baskets are changed when the line is shut down for maintenance.
Many of our cast simplex strainers even come with quick open swivel clamp covers which make cleaning faster and easier.
From there our products ramp up in capability, and often times in complexity as well.
Strainers can come with a differential pressure assembly to measure the pressure drop across the strainer, they can include drain assemblies, vent assemblies, leg assemblies, various end connections, offset inlet and outlet … the list is long and covered in depth throughout our catalogs and website.
Often customers require strainers where the flow cannot be interrupted to remove a basket for cleaning. The unit will require continuous flow in which case we use two separate basket chambers with valves that control the flow from one housing to the other.
One of most common units is our DB 150 (Dual Basket 150). It can use knife gate valves or butterfly valves to direct the flow from one basket to the other.
We custom fabricate a lot of this type of unit. Our customers are clearly using our products in lines that cannot be shut down.
We recently shipped a DB150 which uses a number of our unique features to increase its holding capacity and get longer run times between change-outs. It was custom designed to incorporate unique manifolds and included an offset inlet and outlet configuration based on where in the production line it would be installed. If you look at the flow inlet on the front of the strainer, where you see the blue plastic shipping insert, you'll see it's located higher than the outlet where the filtered liquid will leave the unit.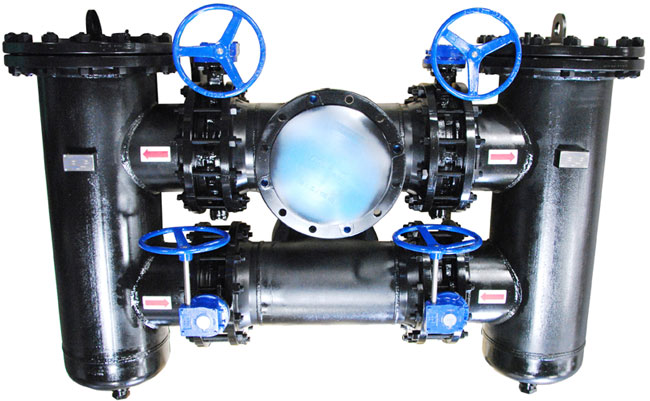 The basket housing is carbon steel and it includes a 304ss strainer insert.
This photo taken from above shows the wide variety of products that were provided to complete the assembly. It's a lot of different products, all engineered to meet the customer's straining and filtration requirements.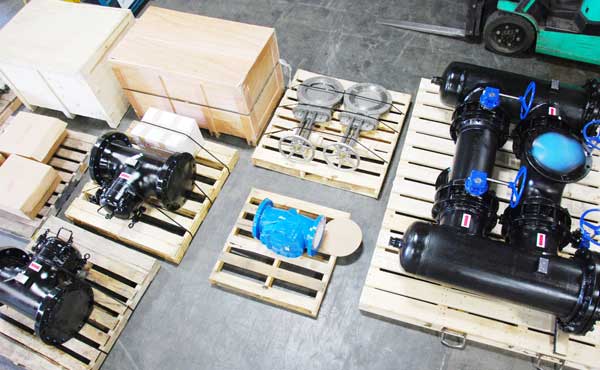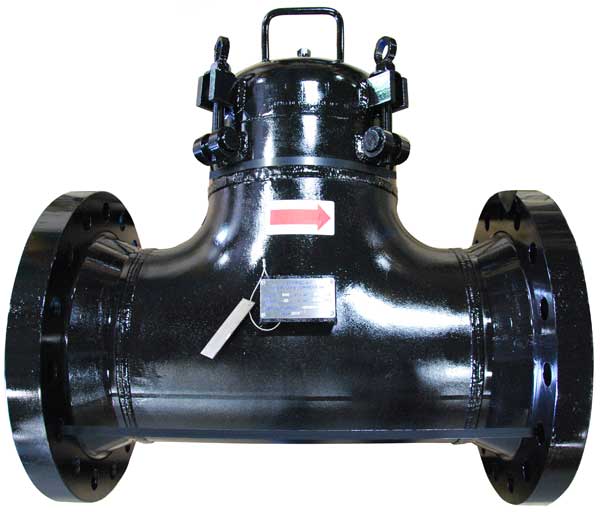 When you look at the number of products that shipped with this order, when you look at the variety of products and realize the breadth of expertise that went into creating this order you get a sense of Sure Flow Equipment's extensive knowledge.
It's what we do at Sure Flow Equipment. You give us the specifications of your unique requirement, then we rise to the challenge and present the engineered solution you need. Sometimes we have it in stock ready to ship. Sometimes our expert engineering and fabrication team custom fabricate it for you.
If you spend any time on this website you will have noticed the breadth and variety of the custom products we have fabricated for our customers.
If you're visiting for the first time, please pick up the phone and call us. Let's get started on developing a business relationship. We're going to work hard to make sure you're a customer a long time.