In our continuous commitment to customer outreach, Sure Flow Equipment just got back from the 2018 Power-Gen International Trade Show in Florida.
The show celebrated its 30th anniversary which is close to how long Sure Flow has been providing an industry leading range of industrial valves and strainers for the power generation industry, among others.
One of this year's themes was "Where Conventional Meets Renewable." While solar and wind generation was well represented, the reality of today's North American power generation market is that a lot of electricity still comes from traditional fossil fuel, hydro and nuclear sources. This is an area where Sure Flow has been extremely successful in providing solutions for customers. Ultimately, when it comes to generating electricity, much of it still involves a liquid, such as water, under pressure, spinning a turbine. The quality of the water is crucial to the long term efficient operating of the plant, ensuring turbines and all the equipment involved lasts as long as possible, while minimizing downtime.
Ensuring that the liquid or gas is clean and free of potentially damaging debris is a Sure Flow specialty and one we got to spend a lot of time discussing with attendees at Power-Gen. Like all trade shows, it included the latest technology from robotics and animation to 3D imaging and Printing. Sure Flow prides itself in staying ahead of the curve on technology, particularly in our engineering department. The reality with many of the products we produce though, is that they are relatively low tech. The mesh and perforated screens of our high-quality strainers remove debris and materials that would impede the efficient operation of a power generation facility. This might be considered 'low tech' compared to 3D Printing, but that 3D printer and software that powers it, still require electricity, and Sure Flow products help ensure a steady supply of power from an electricity grid that is still one of the technological wonders of the modern world. So much of what powers and controls our society relies on a reliable supply of electricity, and Sure Flow is proud of our relationship with so many power generators.
Even with all the high-tech stuff to check out at Power-Gen we were intrigued by how much interest there was in our sample cone strainer. Sure Flow CEO John Wordsworth had the basket fabrication team put together a sample cone strainer using a variety of different perforated mesh and screens.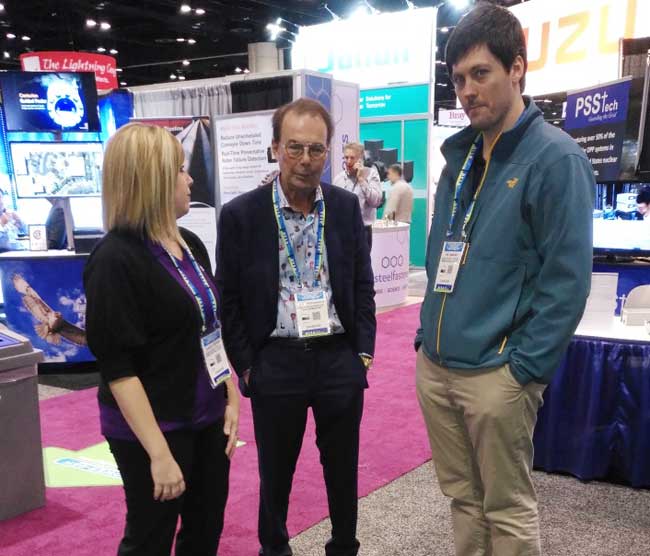 Sure Flow CEO John Wordsworth talks to associates from Murray Supply.
The whole unit was then shipped out for electroplating. Many attendees took a real interest in and a close look at the sample unit. The reality is that many in the industry spend time specifying these products in production process and yet don't get a chance to see them up close and hands-on.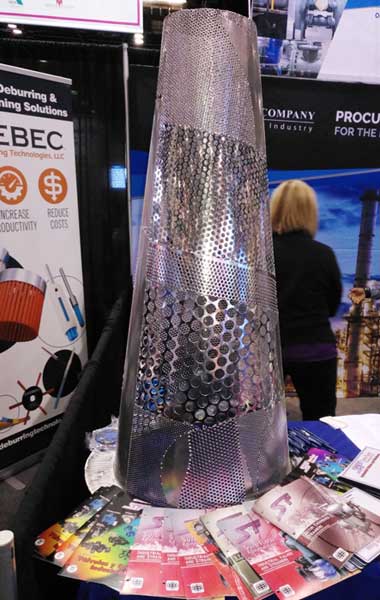 Sure Flow Vice-President of Sales and Marketing John Zuber and Engineering and Design Manager Justin LeBlanc made some great contacts at the show. While much of our business is conducted electronically, business ultimately is still about relationships, and meeting someone face-to-face is one of the best ways to build a business relationship. This is one of the goals of our employee profiles in our website's regular blogs. We want customers to get to know the people that make Sure Flow Equipment an industry leader.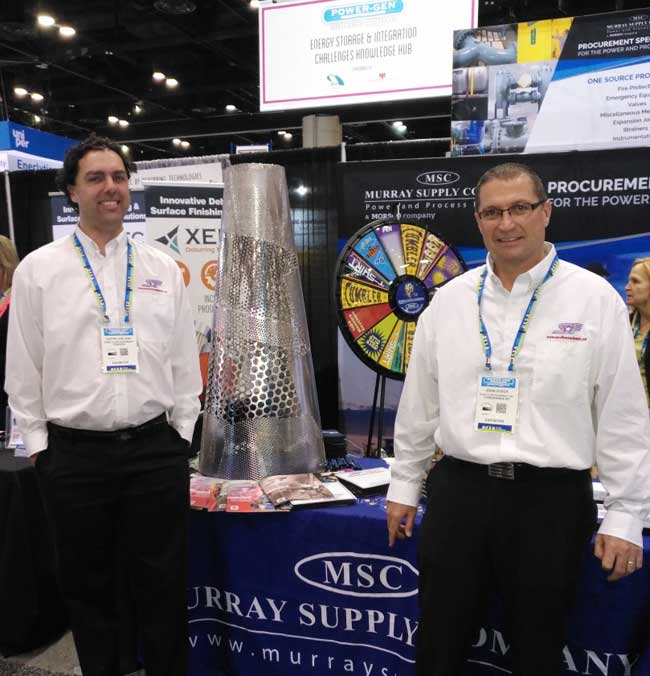 Sure Flow Engineering and Design Manager Justin LeBlanc and Sure Flow Vice-President of Sales and Marketing John Zuber with the demo cone strainer with a variety of perforated mesh and screens.
The meeting of low tech and high tech is fairly common for many of us. Our vehicles can have several million lines of code in the various computers that run the systems, but ultimately, we still have rubber tires that drive over pavement that moves us along.
The same seems to hold true with the power generation industry. As long as much of our electricity comes from heating water and spinning a turbine, having high quality strainers that ensure that water is pure to prevent any damage and minimize required maintenance, and therefore downtime, is critical to a smooth operation. We all know how inconvenient it is when the power goes out. What used to be a fun night with candles and board games and without "Leave It to Beaver" on TV, now seems to be a crisis in many households, where hours without access to the internet is unacceptable, not only for adults tied into the office, but for teens as well, who need essential information about social activities.
As we shared with many visitors to the booth at Power Gen, Sure Flow is a proud and active participant in the continuous quality evolution of maintaining and troubleshooting equipment in this essential industry. If you didn't get a chance to talk to us at the show, please give us a call. We'd love to see if we can share some of this expertise with you.