These all 316 stainless steel 16" Cl.150 Y strainers are ready to ship!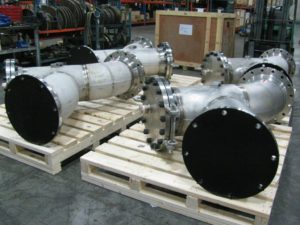 The customer requirement was that the strainers have bolted covers, but they also wanted them to be hinged for more convenient removal of the screen. Sure Flow came through with this custom stainless steel hinge design.
Please call Sure Flow for all your custom strainer design needs.
Known industry-wide for custom engineering and fabrication capability, industrial filters, pipeline strainers and check valves, Sure Flow Equipment Inc. features complete custom design and fabrication in our quality focused environment. Our custom products are designed and manufactured to ASME Section VIII, Div 1 requirements with ASME "U" Code Stamp and ASME "UM" Code Stamp  and National Board "NB" Mark available.
Sure Flow Equipment's C-TPAT certification gives us the ability to safely and quickly ship our products around the world. We have been recently renewed under ISO 9001:2015.