At Sure Flow Equipment we are extremely proud of the fact that our strainers end up in a wide variety of industrial applications, for a huge range of customers, all over the world.
We are humbled by the confidence customers all over the planet have shown in our exceptional industrial valves and strainers.
A recent order we shipped to a southern destination, a number of countries away, is a case in point.
Sure Flow fabricated a number of units for a combined cycle power plant (CCPP) that was to be used at a naval base. Anyone aware of functioning in a sea water/marine environment knows the challenges, and as always Sure Flow was up to the task of meeting the customers' extremely high standards.
Each of three different sized units were engineered using carbon steel construction, with our compact design, including offset inlet and outlet.
The units have an external epoxy coating for a sea water / marine environment.
In the strainers themselves we included robust baskets for high differential pressures. They also include bolted covers with lifting lugs to aid in cover removal for basket cleaning and maintenance.
You'll also notice on top of each strainer is a vent connection complete with socket weld globe valves.
Many of our fabricated dual basket straining assemblies use butterfly valves for isolation, but these units actually use ball valves. This is why the handles look different, and a bit longer than our normal butterfly valves, if you compare to other units you'll find featured on the website.
The handle length increases as the line size increases because the bigger valves take more torque to open and close. Each of the three sample units pictured below is for a different flow rate, and as flow rate increases, so does the line size.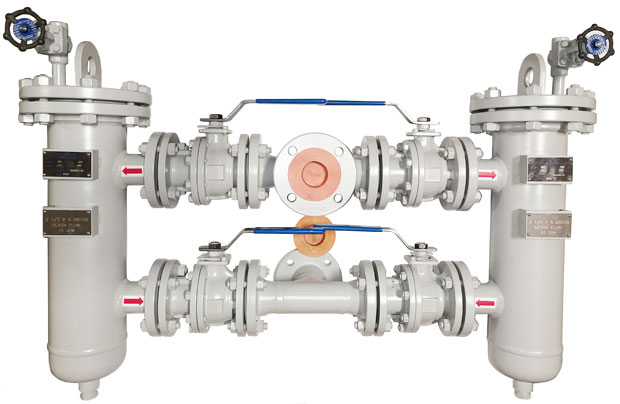 Sure Flow fabricated several of these 2.5" DB150 units. They are 2.5" Class 150 raised face inlet and outlet. The flow rate on this unit is 25 GPM.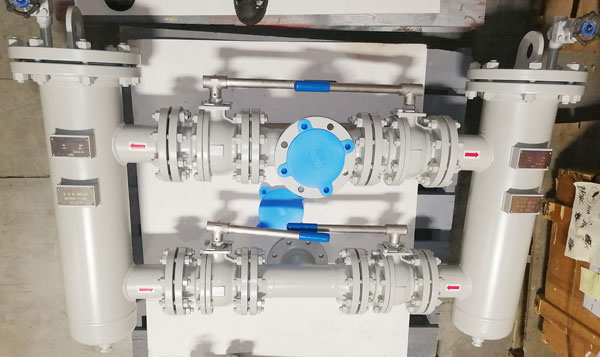 We produced a number of these 4" DB150 units. They are 4" Class 150 with raised face inlet and outlet. They are to handle a flow rate of 80 GPM.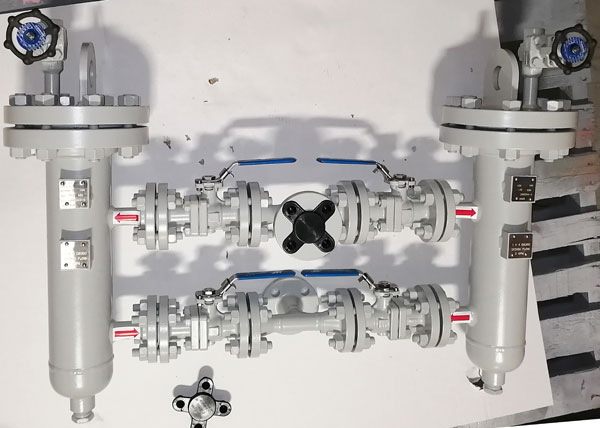 This is a 1" DB300 unit. It is 1" Class 300 raised face inlet and outlet. It was designed for a flow rate of 5 GPM.
These photos are of one order for a variety of fabricated dual basket strainers, designed and engineered to our customer's specifications. We are extremely grateful for the continued confidence our customers throughout the world continue to show in us to produce high quality units such as these for operation in a variety of tough industrial environments.