Sure flow uses the finest tools to make sure that the products is EXACTLY to the dimensions supplied by the customer. Sometimes they have to get creative. Devised by a company Engineer and Lead welder, an alignment tool was created. Once the flanges are aligned the welder is able to make a perfect and precise weld.
Cone Strainer and Basket Strainer replacement screens.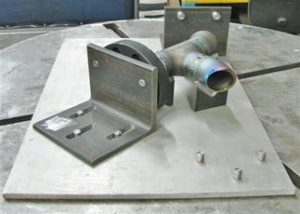 We can custom manufacture to your specification. Contact our office. Remember no voicemail at Sure Flow. Remember we stock up to 36inch in Butterfly Valves, plus a variety of high pressure wafer check valves. Stock to class 1500. Go to our home page and see a host of our products.
Known industry-wide for industrial filters, strainers and valves, Sure Flow Equipment Inc. features complete custom design and fabrication in our quality focused environment. We are ISO 9001:2008 Registered and our custom products are designed and manufactured  o ASME Section VIII, Div 1 requirements with ASME "U" Code Stamp and ASME "UM" Code Stamp and National Board "NB" Mark available.
Sure Flow Equipment Inc. is committed to customer satisfaction and high quality standards. Please make sure to peruse our web site: www.sureflowequipment.com and contact us for all your strainer and filtration requirements.