Just about every company has that "guy" (or perhaps we should say person), the "go-to-guy" who knows everything that's going on. He or she knows every nook and cranny, and ghost in the attic. They are frequently the first to be called on to find, or confirm, or just decipher a drawing, picture, or forgotten model number.
At Sure Flow, Danny is that "guy".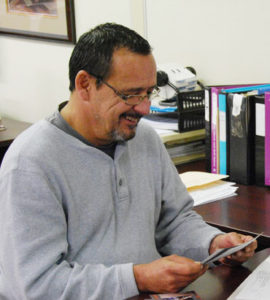 Show him a picture of a product model that a customer is looking to get parts for and even if it was discontinued long ago, Danny can tell you if the parts exist, and if they do exist, where they are located in the 70,000-square foot warehouse.
A company can't survive without "that person" and Danny is "that" guy.
There are lots of factors that contribute to this designation.
Probably one the biggest reasons is simply that Danny is one of Sure Flow's longest serving employees. He started working at Sure Flow shortly after John Wordsworth started the company in 1992. That means he's been here for a quarter of a century! A lot of industrial valves and strainers have left the warehouse during that time. Previously he worked for a variety of other industrial companies.
Danny has also been there for all the moves and constant expansion of the company. Danny joined when Sure Flow was on the North Service Road but they moved to their Mainway location soon afterwards when they needed more space.
Over the years as Sure Flow sales kept increasing and the product line expanded, additional buildings were leased for warehouse space. A huge addition was built on the main building, but after a few years even that didn't provide enough space.
Danny was very much a part of coordinating the final consolidation from 3 or 4 locations into the current 100,000 square foot facility in 2005.
During his years with the company Dan has worn many hats. He was the 'warehouse supervisor' and oversaw 'inventory control' for some time. About 6 years ago John suggested that, with Dan's extensive knowledge of the rapidly broadening product line, he'd be well suited for sales to help coordinate the many facets of following through from concept to final product shipping. Shortly after joining the sales team though, Sure Flow's 'Purchasing Manager' left, so Dan was once again shifted to a place where his skills could best be utilized.
These days Dan's main focus is purchasing, but also fills in for the Production Manager while he is on leave. As Sure Flow's fabricated product business has increased, there are increased challenges in terms of sourcing so many different components in a wide assortment of materials. It only makes sense to have someone like Danny who has experienced this growth firsthand in charge of procuring this wide variety of materials.
Like so many of the people you speak to at Sure Flow, Danny shares a real enthusiasm for the creative process at Sure Flow. Dan gets to watch raw metal and other materials come into the fabrication facility, and then be transformed into the marvelous variety of products Sure Flow customers integrate into their businesses.
"We have a really talented crew here that makes outstanding products, and I couldn't be prouder to be part of the crew. When you see one of these big strainers created, tested, strapped to a pallet and then loaded on to a truck, it's a pretty fulfilling feeling."
Seeing things "before" and "after" extends to his off-work time as well. When not busy with kids and grandkids Dan's passion is renovating his home. "It's like I take this 'continuous quality improvement' too far, right down to my windows and hardwood floors!" Dan says with a smile.
A smile and growl is what most people at Sure Flow associate with Dan. That and his familiarity with so many elements of the business. "I like coming to work and that says a lot about this place. John has created a real family environment, and it feels like we're all working towards the same goal."
Sure Flow founder and CEO John Wordsworth is grateful to have had Danny grow with the company over the last quarter century and praises his dedication. As John says, "He's always there!"
Now you know if you ever contact some department at Sure Flow with a challenge and you hear "I'll get back to you within the hour" you can have a pretty good idea who will likely to be involved with coming up with an answer for you. It will be the man who has worn many hats and grown with the organization. It's Danny, the "go-to guy".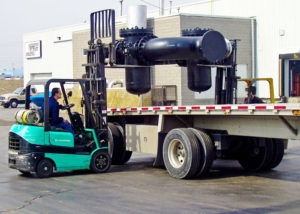 Here's a photo from a while back of Danny loading a large fabricated strainer.