The 25 hay barrels pictured below represent the TEAM here at Sure Flow Equipment.
As you can see there is very little space between bales;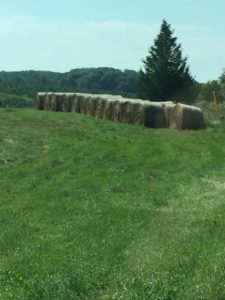 JUST like the employees at sure flow work closely together to accomplish the task of providing excellent customer service and quality of product.
This is only the start of gathering bales. We had torrential rains on the farm yesterday. The driveway had a rut so big a tire would get stuck in it. All fixed now until the next storm. There is no task too big for Sure Flow to handle, either on the farm or in the office. Remember to contact us for all of your industrial valve and strainer needs.
Known industry-wide for custom engineering and fabrication capability, industrial filters, pipeline strainers and check valves, Sure Flow Equipment Inc. features complete custom design and fabrication in our quality focused environment. Our custom products are designed and manufactured to ASME Section VIII, Div 1 requirements with ASME "U" Code Stamp and ASME "UM" Code Stamp  and National Board "NB" Mark available.
Sure Flow Equipment's C-TPAT certification gives us the ability to safely and quickly ship our products around the world. We have been recently renewed under ISO 9001:2015.