Spring has finally brought the potential for us to start to think about warmer weather activities like "teeing up" a golf ball, or getting the kids "Tee Ball" set out of the garage. When you hear the phrase "Tee Up", you start thinking about getting preparations made, planning or organizing. We naturally assume some of our readers are planning additions to or maintenance on pipelines, and "Tee Strainers" are part of the planning process.
We were recently looking for a photograph in one of our archives, and realized we have a huge number of product photos that were taken, but were never published on the website. So, with that we decided it was time to get cracking on getting some of these, in this case our Tee Strainers.
A recent blog discussed our "Barred" Tee Strainers, which can be used in pipelines where 'pigs' are used, but Sure Flow custom fabricates a lot of standard Tee Strainers without the bars.
They too are designed to remove foreign particles, and are predominantly used in pipeline applications. Unlike some of our strainers which we hold an inventory of, to help customers who have short timeline requirements, our Tee Strainers are all almost all custom fabricated to our customers unique specifications.
Our Tee Strainers provide the ultimate protection for pumps, valves and the critical equipment that helps keep materials moving through a pipeline.
The standard material of construction is Carbon or Stainless Steel, but Sure Flow has vast experience in fabricating strainers from Chrome-Moly, and other materials. There are a variety of end connections and accessories also available as well, hence, the photo montage that follows.
Here are some dandy shots of our TW line of Tee Strainers. They are high pressure and in this case, use a butt weld end connection. The basket screen is reinforced to prevent it from deforming or collapsing under pressure when clogged.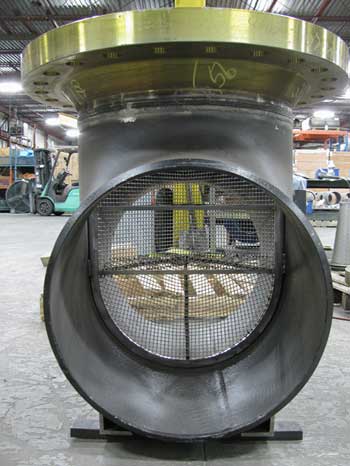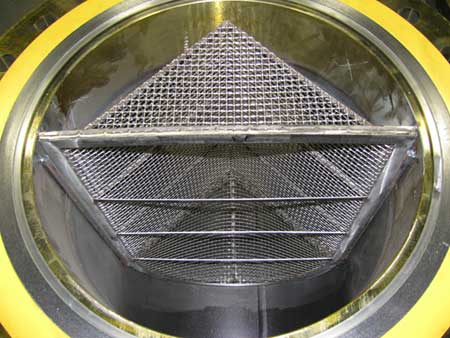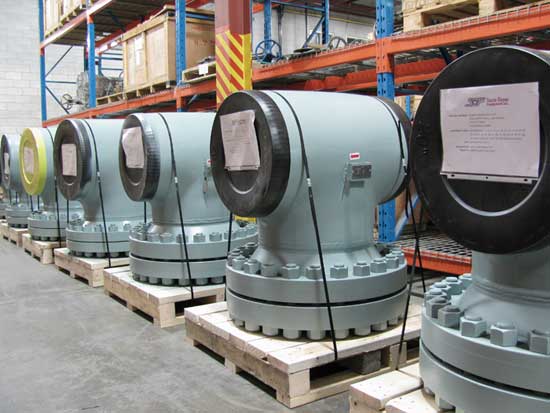 The Sure Flow TWA Strainer is similar to the standard Tee strainer except that it is designed for angled flow. The Strainer can be fabricated with a standard bolted cover or a quick opening hinged cover (TWHA).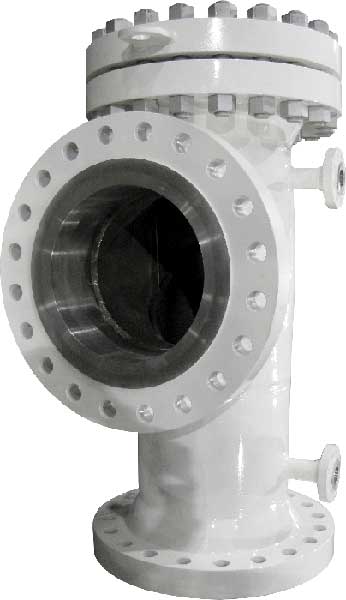 Here's a Sure Flow Tee Strainer part way through the fabrication process.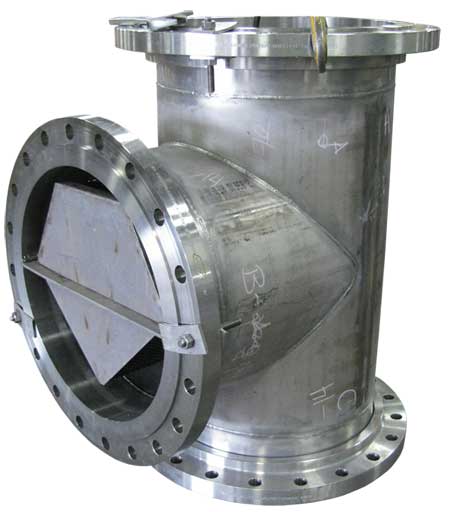 Our Tee Strainers come in a mind-boggling number of combinations and configurations. Please give our engineering department a challenge and call us with your unique project requirements! It's been a long winter and we're ready for the mental exercise!