The Sure Flow Equipment blog is a place to keep our customers up-to-date on some of the exciting new projects we're involved with, and feature some of the amazing products we fabricate, so there's no doubt about the scope and breadth of our abilities.
We also feature profiles of some of our employees and their endeavours in order to give a glimpse of what makes the Sure Flow Team tick. Often this revolves around a team member's charitable work.
Recently Sure Flow's Vice President, John Zuber, ratcheted up the outreach meter and we felt it important it be acknowledged and shared.
John took a week of his holiday time to travel to Mexico to help build a home for a family who otherwise would be living in extremely challenging circumstances.
The trip was organized through Yugo Ministries with the slogan "Impacting Mexico, Transforming the World."  https://www.yugo.org/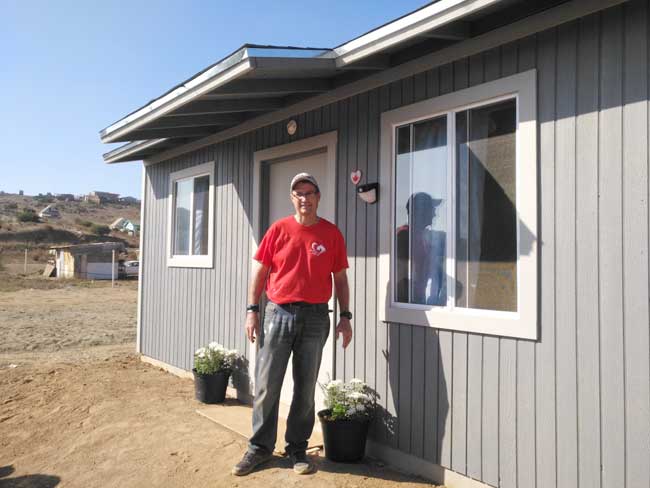 Along with a group of other devoted builders, the home that John helped build was provided to a family that would never have had the resources to construct such building. The positive impact that a home like this will have on a family is hard to imagine.
It harkens back to Jimmy Stewart's speech in "It's a Wonderful Life" to the Board of Directors for the Bailey Brothers Savings and Loan about his father's legacy of building homes for lower income townspeople. "Well, is it too much to have them work and live in a couple of decent rooms and a bath? My father didn't think so."
This clearly was an act of faith and love. This is the sort of endeavor that restores anyone's faith in mankind.
While Sure Flow operates in a capitalist world, most our products end up being used in processes that ultimately make people's lives better. Our strainers that end up in municipal water treatment systems provide the essential gift of clean water to people's homes. The various products that end up straining cooling water in power plants help provide the luxury of electricity that keeps our homes bright and our food cold. The Sure Flow products that are used in the petroleum industry help provide products to power trucks to bring food to stores nearby, and products that keep our homes warm.
This is a big picture view of the work that John Zuber does each day, helping customers determine the correct product in the optimal materials for their projects. While that product will ultimately make many people lives better, it's indirectly.
In the case of his week building a home for one family, John got to spend time with a group of like-minded individuals from across North America making a better life for one family.
John worked with a small crew on a project and the ultimate recipient of his work was there to thank him. Most days he works with a talented and dedicated team at Sure Flow on big projects that help everyone move forward.
Needless to say, we are extremely proud of John Zuber's accomplishments, daily with our customers, as well as with how he spends his 'spare time!'