Fenway is not the only place with a Green Monster.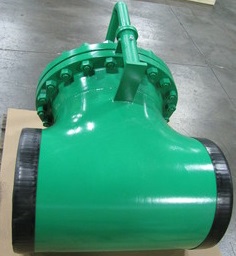 Sure Flow equipment has just custom fabricated this Tee-Strainer which called for a pretty serious paint job. Showing our diversity, we can take any job thrown at us! If you have a project that includes paint and other detailed specifications, Sure Flow is the place to bring it.
Known industry-wide for custom engineering and fabrication capability, industrial filters, pipeline strainers and check valves, Sure Flow Equipment Inc. features complete custom design and fabrication in our quality focused environment. We are ISO 9001:2008 Registered and our custom products are designed and manufactured to ASME Section VIII, Div 1 requirements with ASME "U" Code Stamp and ASME "UM" Code Stamp  and National Board "NB" Mark available.
Sure Flow Equipment's C-TPAT certification gives us the ability to safely and quickly ship our products around the world.