Sure Flow Equipment has a 100,000 square foot warehouse where we stock a huge variety of industrial valves and strainers, in a variety of sizes and materials. With these products customers are usually looking for a fairly standard unit to be installed in a standard configuration, bolted or welded.
The bulk of fabricated production though requires custom sizing to fit a customer's current piping layout, or its position in a new or existing production line.
This 18 inch BDB125 unit is a classic example of this. It has a unique layout that you won't find in many samples on our website, but was what the customer required. Obviously we were happy to oblige with a unit that fit exactly as required.
The unit is a bolted dual basket with cast iron BF125 basket strainers.
It was constructed of cast iron class 125, with flat face flanged inlet and outlet.
It incorporated lug style butterfly valves with gear operators for isolation.
Each strainer has lifting eyes on the cover to aid in the cover removal. When you get into the 18-inch zone weight and manoeuvrability become an issue for operators.
This photo gives a great perspective to help visualize how a fluid would flow through this unit and be diverted from one strainer to the other to allow for cleaning.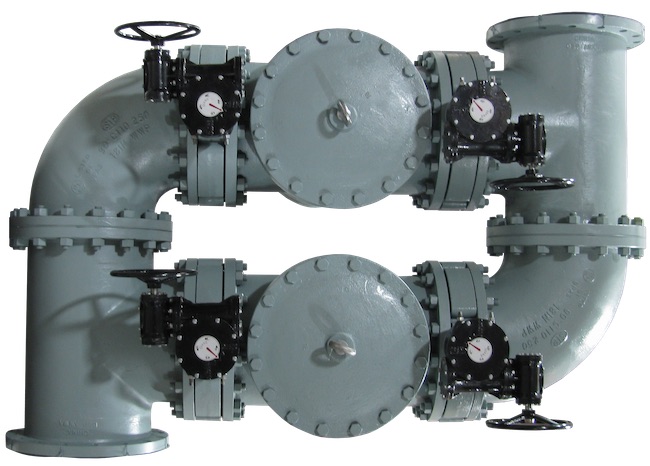 We live in marvelous times with amazing new technology in our lives every day. Yet we still require a lot of well-established technologies as well. Some of these existing technologies clean the water that comes into and leaves our homes. It helps distill the petroleum that still produces a huge amount of energy in our lives, from driving our vehicles to heating our homes and cooking our food. Cleaning and filtering fluids is an essential part of numerous processes in our industrial society that produce food and myriad of other products essential for our standard of living. Sure Flow Equipment is happy to be doing our part to keep industry functioning efficiently for the benefit of everyone. We're especially glad to fabricate units that just 'fit in' with their surroundings.