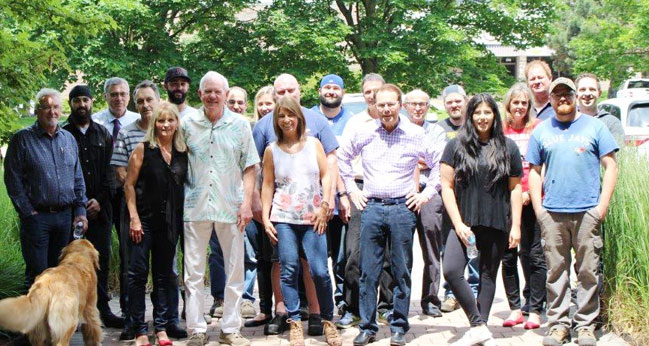 If you have ever had the opportunity to play on a winning team, you know that great sensation you get from looking at the team photo after the victory.
Some of us, even though we haven't played on the championship team, still enjoy looking at photos of teams we've been part of. They remind us of the joy that comes from working towards a common goal, from being part of a greater whole, and from discovering that two heads (or more) are better than one.
We are reminded of the quote from Michael Jordan… "Talent wins games, but teamwork and intelligence win championships."
Sure Flow Equipment is made of up of many 'talented' people. On their own, they do exceptional work. But when we will pull together, we are capable of extraordinary things
You get a sense about an organization sometimes from those 'team photos' you see around the plant. They might be softball photos, or golf photos, but they show that the people who work together actually like to play together.
Sure Flow Equipment has these photos, but we were reminded of the bigger picture last week when one of our team members retired.
Sales Manager Jim Mink retired after a long career and we had a party for him on his last day.
Sure Flow Equipment CEO John Wordsworth convinced everyone who was available to head outside for a group shot. There were some employees involved with tasks like answering phones etc., on holidays, etc. that prevented the 'whole' team from being present.
Regardless, most of the 'Team' was there for the "Team Photo."
We are reminded that a business is still made up of a number of individuals who work together towards a common goal. Sure Flow Equipment's goal has always been and remains, to provide the highest quality industrial valves and strainers, and to make sure that the customers who purchase them are happy with that product.
The individuals who produce these products are all extremely 'talented', but Sure Flow still has its eye on the championship, and that involves satisfying the end user, the customer, and that requires teamwork.
So for multiple reasons, it's always a good idea to get the team together for a 'team photo' periodically, to remind ourselves that together we are an awesome force!
To quote an American industrialist, who had some fairly impressive success himself:
"If everyone is moving forward together, then success takes care of itself." Henry Ford
(In the photo Sure Flow Equipment CEO John Wordsworth is third from the right, "The Captain of the Team")