Once again, the guy with the camera was late to the party. But at least he got there before the order shipped.
In this 'case' we're looking at four BWH150 strainers with rare earth magnets. These are a 3" strainers.
The crate has four strainers with four spare baskets.
These are fabricated carbon steel basket strainers, engineered and fabricated at Sure Flow Equipment.
The units are Class 150 raised face flanged offset inlet and outlet.  The design required the inlet to be higher than the outlet. We're presuming this was for the specific piping where the units were being installed, but our engineering team is always happy to work with unique customer specifications.
You'll notice on top the quick-open closure for basket removal. This includes a hinge and breakover wrenches for toolless opening of cover. Not requiring a specific tool for a unit like this simply makes maintenance on them easier.
These units included an Ontario CRN.
They were destined for a petroleum lubricants plant.
Sure Flow Equipment fabricated the baskets which included unique basket handles with a hold down spring that we did source from an outside supplier.
The magnets which are bolted into the basket are designed to attract metal particles in the straining process.
If anything isn't clear about these custom fabricated units from the photos below, please let us know. If you need more information about breakover wrenches for toolless cover opening, basket strainers with magnets, or any other custom fabrication request please contact our engineering department. We're always happy to provide more information on any of these or other related straining and filtration challenge.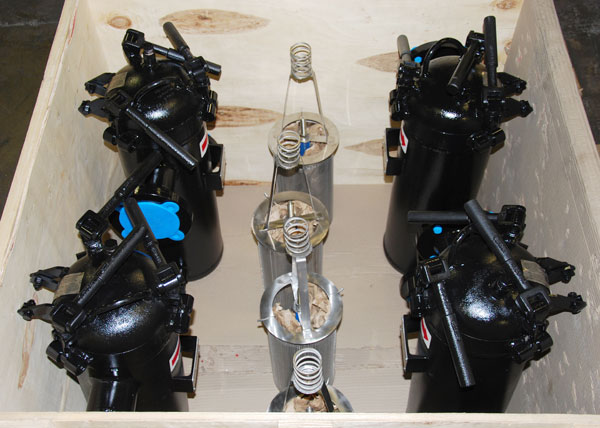 In this photo below the basket is ready for shipment with packing material, and the magnet with a blue plastic protective mesh cover.