It's that time of year when many of us dream about taking a vacation. Getting away to a warmer, more exotic location.
Right now, at Sure Flow it looks like some of our exceptional industrial valves and strainers are actually getting to live out our travel fantasies, and head off to distant, exotic lands.
One is, in fact, on its way to Peru.
This 8-inch, 125 pound, cast iron Dual Basket Strainer, was custom fabricated for one of our customers in South America to be used on cooling water in an industrial process.
The unit includes 4 wafer style butterfly valves each with a standard lockout lever, this allows one strainer to be isolated for cleaning while the other strainer allows flow.
This way there is no down time for production and it is easier for the operator.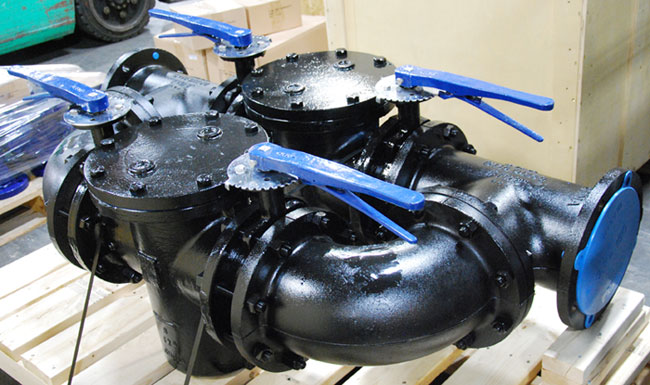 Many of our strainers end up straining and filtering water, so we are always aware of great stories about water.
The UNESCO World Heritage Site of "Machu Picchu" in Peru, is the iconic 15th century Inca citadel and a classic example of the miraculous use of available water. Built on a mountain ridge it was home at one time to what archaeologists believe may have been as many as 800 people.
https://en.wikipedia.org/wiki/Machu_Picchu
They grew much of their own food in an extensive system of terraces. One would assume that a system of agriculture like this would have required irrigation, but because of the heavy rainfall this wasn't required. The drainage of excess water was actually more of a challenge, especially during the heaviest rainfall periods.
Working with water is fraught with challenges, and Sure Flow Equipment is proud to have a team of engineers and fabricators who are familiar with these challenges, and are always up to the challenge of helping customers deal with them in their straining processes.
Even though Machu Picchu is difficult for tourists to access, it still had almost a million and half visitors in 2017. People seem fascinated with seeing firsthand the wonders of human engineering
While our 8" Dual Basket Strainer will not see anything quite as exotic when it gets to Peru it will be used in a miraculous industrial process, one of the countless systems that provide us with the incredible standard of living so many of us enjoy.
We wish it the best on its long journey. And if we're completely honest, we are mildly jealous of its journey to an exotic destination that like so many of Sure Flow products, it's about to embark on.