We have just launched our newly designed website and we're pretty excited about it. In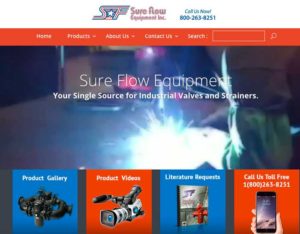 keeping with our philosophy of being the leader in our industry, we realized our website needed upgrading.
The newly designed website is 'responsive', which simply means it has been set up to be viewed by any device, computer, tablet or smartphone. Some of our customers are changing how and when they access information, and we wanted to make sure whatever device they used would work well with our site.
We also streamlined some of our pages, just providing the basics, but making detailed information available for each product in a PDF. Someone paying for data on a phone may not want a huge amount of detail, but it's there if they do want it. We also made the PDF of each product available on its own, rather than having to download the whole category catalog, again saving our customers time and money.
This is how we've always operated at Sure Flow Equipment. How can we do things better? How can we offer our customers better service?
We appreciate you visiting the site. Please provide us with feedback. It's how we improve. Tell us what you like. Tell us what you don't like. With thousands of different products and devices out there, something may not be working on yours, but let us know and we'll try and fix it.
We offer exceptional valves and strainers and we believe in continuous quality improvement, so help us make the new site better.