We spend the whole year dealing with "witches' hats" at Sure Flow, and not just on special occasions. Well actually, we treat every order at Sure Flow like a special occasion. We also have a couple of unique characters that make their presence known around the facility, including a Knight in Shining Armor and his dog, all constructed out of metal screen material.
"Witches' hats" are a type of cone or conical strainers. They have the cone shape to a pointed tip and the brim where they sit in the strainer. When you see their shape the name is self-explanatory.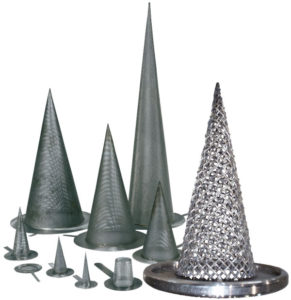 These are all part of our huge assortment of screen types that we stock and fabricate to meet the diverse requirements of our customers.
Temporary cone strainers are installed between two pipe flanges for protection of equipment and they can be installed in water, steam, gas and oil service. They are generally constructed of stainless steel, and they can either be installed in a start-up situation or where cost is a prime consideration. To remove, clean and inspect these strainers the pipe must be disassembled.
Below is a 42-inch, 900 lb. stainless steel cone strainer with reinforcement rings. It has 1/8″ stainless steel perforation and 40 mesh outside lining to handle reverse flow. Its size is 6'3″ high x 42″ wide. It was designed for a high pressure natural gas service application.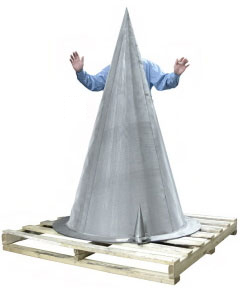 Here is a custom model 0600/CS300 which is a 6-inch, 300 lb., 316 stainless steel temporary cone strainer. It has a 3/16″ perf and 100 mesh outside lining. It is 20″ x 13″ x 13″.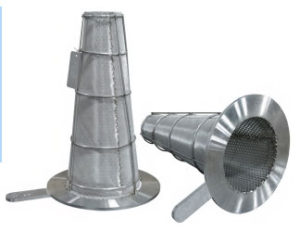 Sure Flow manufactures basket strainers, plate strainers, reverse/straight flow strainers, foot valve screens, wedge wire screens, multiple layer screens and many more styles. We've also manufactured media retention nozzles, resin traps, submerged intake screens, foot valve screens, multiple layer screens, wedge wire screens and many more styles.Below are mesh openings we use for screens, which are available in all materials.


If we use perforated plate here are the open areas.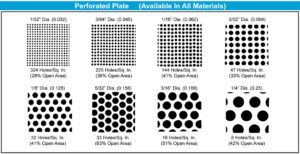 We produce our strainers in carbon steel, various grades of stainless steel, Alloy 20, Monel, Titanium, Super Duplex and more.
Over the decades Sure Flow has produced a staggering number of strainers in a huge variety of sizes, designs and materials.
A while back we had one of our talented and creative welders ask if he could use some off- cuts, and the next thing we knew we had a new mascot called "Strainer Dog".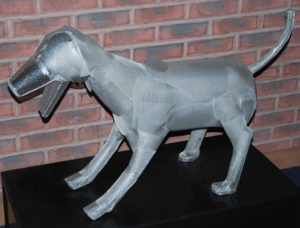 It was so popular at trade shows that we decided to commission a more elaborate project. And now we have the Sure Flow Knight in Shining Armor (or screen material) and his trusted watchdog companion to guard our lobby and greet visitors to Sure Flow. Not everyone would think to create designs like this, but we think it shows that we're anxious to try new things and are willing to take on pretty much any design challenge.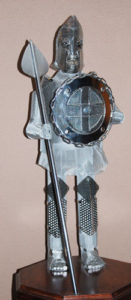 Meanwhile, our shipping department is building a custom crate to ship our Knight to Las Vegas for "Power-Gen International" December 4 -7. We hope to see some of you there.