The dreams of making it to the big leagues die hard.
Sure Flow Equipment's 'Shipping and Assembly Supervisor' Vern Walker still spends Thursday nights on the ice, dreaming of that call from an NHL scout calling him up for a try out. Knowing the average age of players today though, Vern seems pretty content with stick-handling his way through the exceptional logistical challenges of his current Sure Flow responsibilities.
Like a top-rated hockey player who spends every second on the ice assessing the situation, looking for opportunities and anticipating how the play will unfold, Vern must aggregate a confluence of inputs to maximize the end results. The product being shipped, the final destination, how quickly it has to get there, the best carrier for the type of delivery required, the inputs and variables seems infinite. But Vern handles them like a pro, and Sure Flow customers are consistently happy with the quality of his efforts.
Sure Flow's product line offer unique challenges in terms of shipping. Some products are massive and many shipments contain a variety of products in different shapes and sizes and materials. It's not as simple as throwing boxes of widgets that are all the same dimensions on a pallet and loading on a truck.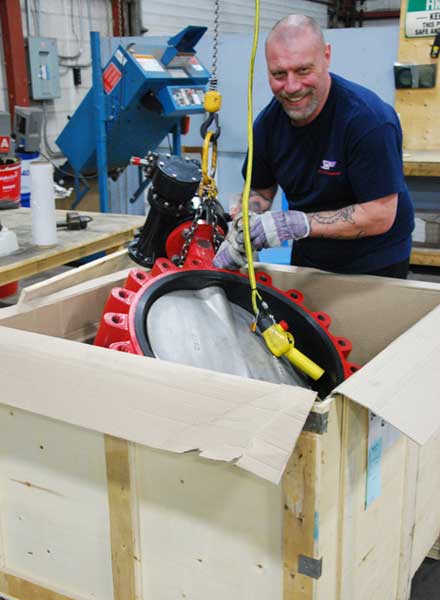 There are numerous variables in modern-day logistics. So many options and so many requirements from customers that add to the challenges. This is on top of Sure Flow's "Same Day Shipping" policy if the products are in stock. Nothing seems to faze Vern as you watch him juggle a whole series of orders at various stages of completion. Factor in the interruptions. The questions from the sales department. The courier at the door. The custom pallet that he has to make sure is being built for that fabricated dual basket that's in the paint department and is just about ready to ship.
Vern was part of the team that put together the huge rush order a few days before Christmas a few years back that we mentioned in Brad's blog.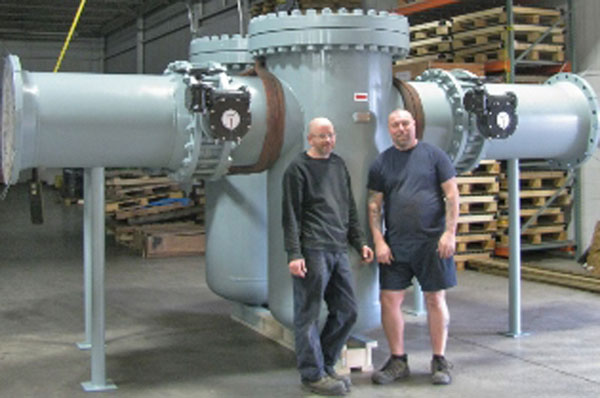 And yes, this was taken in December, and that's Vern in the shorts. Vern is "The Short Guy" at Sure Flow, who wears shorts … no matter what the season. One tries to illicit a logical reason why someone in the middle of winter would be wearing shorts, and well, that's just what he does. Nope, it's 30° below, Vern's wearing shorts.
For someone who has ever put on a pair of skates and played pickup hockey, put on a glove and played slow pitch, or tossed a football around a park, it's pretty hard not to immediately go into "what if" mode, and wonder why the stars didn't align for you to stick with a sport you loved and make it to the major leagues. One can only assume that Vern may experience this periodically in his Thursday night pick-up hockey league.
What's more important though is to realize that whatever you do, you should do it well. And Vern simply excels at his job. While standing and chatting, a sales person brings out an order to ask for a weight estimate. Now you need to remember that Sure Flow stocks thousands of products and fabricates an infinite array of industrial valves and strainers and this would seem to be a mind-boggling task. And each of product line comes in a variety of sizes with a variety of options for construction, baskets, etc. There is just a huge variety of options and combinations.
I glance at the order and see one thing listed, a single product, with a part number that specifies the product, the size, and the material of construction, etc. Vern thinks about it for a second and then says "320 lbs." The sales person thanks Vern and then leaves to work on the shipping component of the quote for the customer.
I said to Vern, "No way. How is that even possible that you'd know that?" "It's just experience. I've been working here long enough and assembling products and shipping these items that it becomes second nature to know what the final weight will be," Vern replied.
When you watch professional sports it's easy to be in awe of the talents of athletes. What you experience at Sure Flow is quite similar, only with industrial products. There seems to be an innate sense with employees about the best way to solve a customer's challenges, to maximize the quality of any given fabrication, to test to ensure you've produced the finest product possible, and to pack and ship those products to ensure the customer is happy with every facet of the team's efforts.
Vern "The Year-Round Short-Wearing Guy" exemplifies this 'best in class", at the "top of his game" quality instinct. "It just comes from experience. I know our customers want products shipped promptly, and they want them to arrive exactly as they left the plant. I just take in all the inputs, analyze the data and provide the best solution. Everyone at Sure Flow does it."
Once the interview is complete and I'm walking away I remind Vern that 'the call' may still come from that NHL scout. With a 9-year-old grandson and knees that may no longer be "NHL Grade", Vern seems pretty happy to stick to his Thursday night league and just 'stick handle' all those orders for products moving out the door at Sure Flow.