If you're reading this blog you probably have a good idea of how exhausting a week of work can be.
Getting up and commuting to work. A full day at a computer. Commuting home, making dinner, cleaning up. Then there's the weekend… Saturday… groceries and errands… Sunday… cleaning, projects.
So, the thought of someone working a full week and then giving up their Saturday for charity work is really quite exceptional.
Yet it happens a lot with the Sure Flow Team. Staff at Sure Flow have committed countless days to community work over the decades, and a recent Saturday was no exception, as a large contingent of Sure Flow Team Members participated in the local "YMCA Move for Kids."
In fact, this year's event saw the highest number of Sure Flow staff participate to date.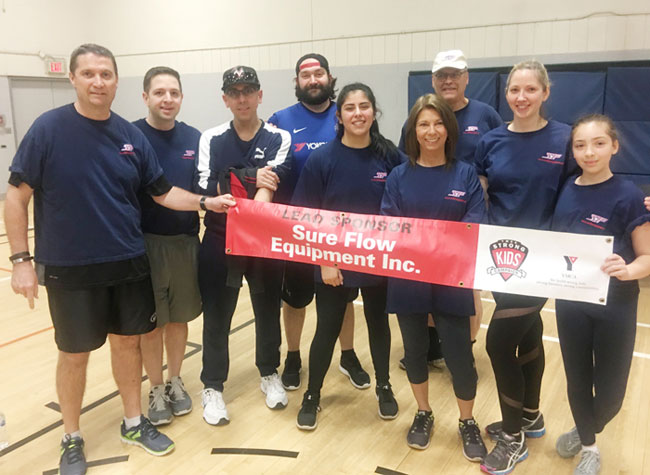 Sure Flow V.P. Sales and Marketing John Zuber (left) leads the Lead Sponsor "Sure Flow Equipment Team" for the YMCA Move For Kids.
Saturday's event was designed to help provide children living in poverty access to the programs at the YMCA. For lots of these kids it's a unique opportunity to get involved with a really positive, healthy experience. So, Sure Flow is proud to be part of it. A little cycling and fundraising seems a small price to pay for such a worthy endeavor.
Events like these, where a group of people work towards a shared goal are excellent for team building. But it's nothing new for Sure Flow Team Members because they spend every day working together in pursuit of the goal of providing high quality products for our excellent customers.
As we say with all our charitable work, we are grateful to have the opportunity and resources to participate in such worthy work, and we are extremely grateful to our exceptional customers who give us the luxury to make this all possible. Thank you!