We've all come to associate red with danger… STOP signs, stop lights, fire trucks. The reason that red was chosen for things like stop lights is because it has one of the longest wavelengths in the visible spectrum of light. This means that if you're approaching an intersection on a foggy night, you'll see a red stoplight, before you'll see a green one, which is a good thing. You should be approaching with caution anyway.
We've come to associate red with many such warnings, but there is also some excitement attached to it. Whether it's from when we were kids playing with toys or standing on a street corner while a fire engine roared by with sirens wailing and lights flashing, red is associated with a pretty invigorating experience.
It's the kind of exhilaration the Sure Flow Team gets when we produce a unit such as the one pictured below. This strainer just makes a statement.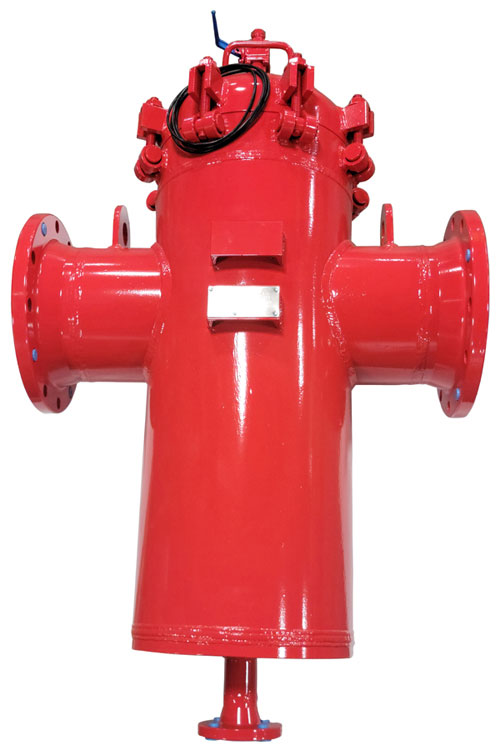 This basket strainer, which recently shipped, will be used in a butane storage area. It is for firewater service and hence the colour red. There's no doubting as you walk through an industrial facility what the nature of this unit and the associated piping represents. It's for fire protection.
The unit itself is a 10-inch Class 150 RF basket strainer.
It includes flanged inlet and outlet and uses carbon steel construction.
The unit has a quick open closure on top, with a hinge.
It also includes a ¾ inch vent on the cover with a ball valve.
You'll also notice a 2-inch flanged drain on the bottom.
As part of our quality control this unit includes a Canadian Registration Number (CRN) issued for any boiler, pressure vessel or fitting that operates at a pressure greater than 15 psig.
Also noteworthy is our customer's foresight in terms of on-going maintenance with the unit. Looped over one of the locking nuts at the top of the unit you'll see a number of spare O-rings for the cover. This just means that the O-rings will be available and at hand when required in the years to come while the unit is undergoing maintenance and cleaning.
Like all of our custom fabricated strainers at Sure Flow Equipment, we were all deeply satisfied to see this unit ship. Many individuals made contributions to this exceptional and critical piece of fire protection infrastructure. You can get an idea of the scope of what goes into a unit like this by reading our "Hidden Life of a Custom Fabricated Pressure Vessel" series.
https://www.sureflowequipment.com/the-hidden-life-of-a-custom-fabricated-pressure-vessel-part-two-photo-essay-of-a-fabricated-16-inch-bwh600-basket-strainer/
The fact that this unit happened to be fire engine red just added to the excitement!