BF300 / BF300SS – Cast Steel / Cast 316 Stainless Steel Basket Strainer
ASME Section VIII, Div 1, Current Edition: U and UM CODE STAMP Available
Sure Flow Class 300 ASME Flanged basket strainers are available in Cast Steel and Cast Stainless Steel. The screen is in the form of a basket, with a lifting handle, so that all particulate captured and retained by the screen can be easily removed for disposal.
CONSTRUCTION
Carbon Steel – Body, Cover –  ASTM A216 Grade WCB
Stainless Steel – Body, Cover – ASTM A351 Grade CF8M
All screens are Stainless Steel
NOTES
Must specify if for steam service
Manufacturer reserves the right to modify dimensions, materials, or design. Consult factory for certification.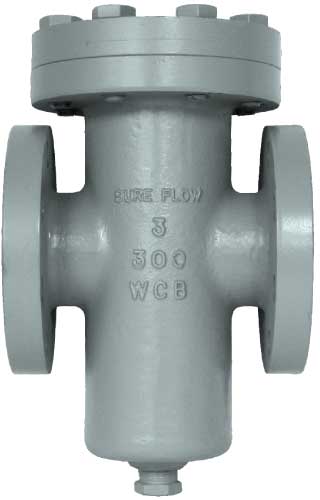 Size
0400
Model
BF300SS
Screen
125
4" Basket Strainer, Cast Stainless Steel,
Class 300 ASME Flanges, 1/8" Perf Screen