Sometimes the coolest projects grow out of a simple idea. Like someone looking at pile of scrap metal and saying, "You know, we should build a horse out of that!"
So began the saga of "Sure Biscuit", Sure Flow Equipment's latest mascot creation, fabricated by our expert strainer and screen team, mostly from material that was due for recycling.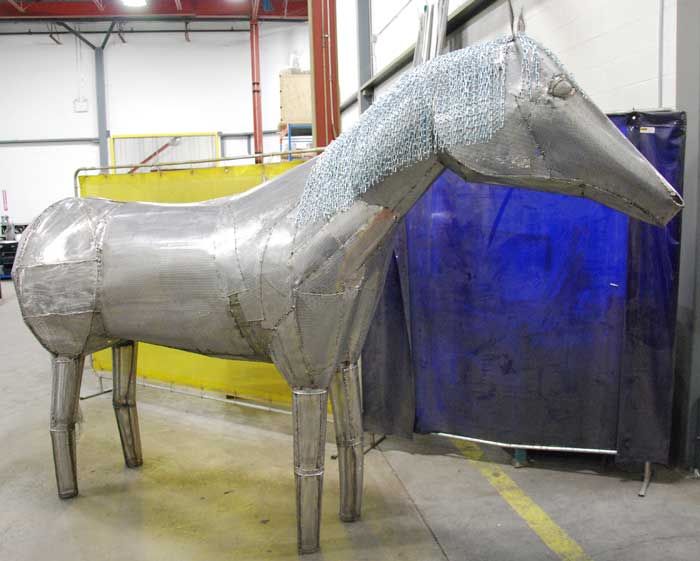 The project took a long time to complete because one of the other parameters for its creation was that it was only to be worked on when the screen and strainer team wasn't busy with other customer work, which in an operation like Sure Flow's, is rare.
John Hamilton, who oversaw that project, managed to incorporate an added element to it which was to use it as a training exercise for some of the younger welders to hone their skills. Each stage of the creation would involve conceptualizing the best way to accomplish the task, then some trial and error to see if it worked. Details like the eyes were extra time consuming.
Sure Biscuit's creation takes us back to the time of blacksmith's creating custom metal work with molten metal. Today many only see blacksmith's handiwork in public sculpture where it is less 'functional' and more 'art'. And "Work of Art" is what comes to mind when you see the end result of the hundreds of hours of trial and error and meticulous attention to detail that the finished product represents.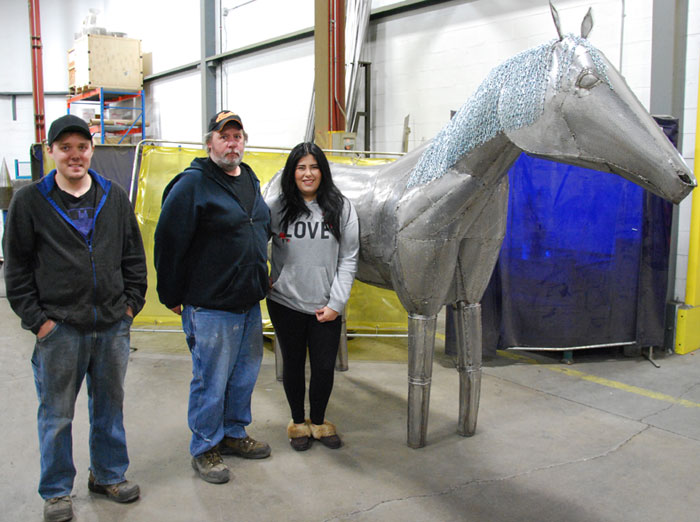 Sure Biscuit co-creators Sean Taylor, John Hamilton and Jessica Wordsworth.
Sure Flow Equipment's complete fabrication facility has all the required equipment to meet its customer requirements, including MIG and TIG, Submerged Arc Welding, Flux-Core and Stick Electrode Welding. These were essential for this custom fabrication job. Sure Flow has all the tools for bending and shaping the metal along with the experienced staff to create so many of the unique angles, shapes and characteristics required in something like the recreation of a horse.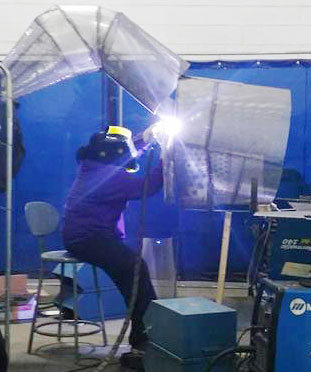 Jessica Wordsworth attaches Sure Biscuit's head to its torso.
Once a piece scrap was found and shaped for a section like the shoulder, Sure Flow fabricators then had to reverse the process for the opposite side. It required slow and steady progress, like a big jigsaw puzzle.
Sure Flow perforated plate, which formed much of the more structural parts, comes in sizes from 1/32"Dia. with 324 Holes per Square Inch to 1/4" Dia. with 8 Holes per Square Inch.
Mesh made up some of the more subtle sections such as the eyes and ears since it comes with 1/32" Openings (20 Mesh with 46% Open Area) to 0.005" Openings (100 Mesh with 30% Open Area). Eyelashes were made from mesh with perpendicular threads of the weave removed.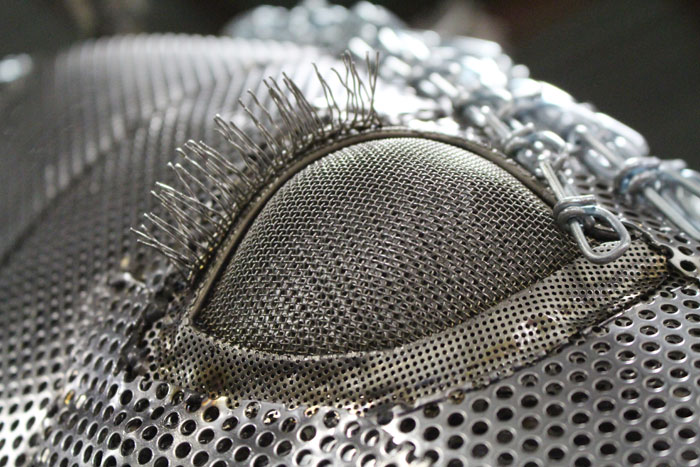 The mane and tail where were created with chain which, while not a component of Sure Flow products, is often used to suspend various work in progress in the shop.
Whether it was 'trial and error' or just the combined knowledge of years of fabrication expertise, "Sure Biscuit" fits right in with the sorts of high quality products you see in various stages of production at the 100,000 Sure Flow fabrication facility.
We have profiled past artistic projects by the Sure Flow team, including its "Knight in Shining Armor" creation. Now with the size and scope of the project being ramped up to the size of "Sure Biscuit – the Wonder Horse", we wonder if we should be taking bets on the next project. Those dinosaurs in the Jurassic Movies seem pretty popular right now!
Addendum:
Neil Peart, the lyricist and drummer for the band "Rush" wrote a great lyric in the song "Closer to the Heart" that goes….
The blacksmith and the artist
Reflect it in their art
They forge their creativity
Closer to the heart
With that in mind, here are some more construction photos of the team 'forging their creativity' on their work of art.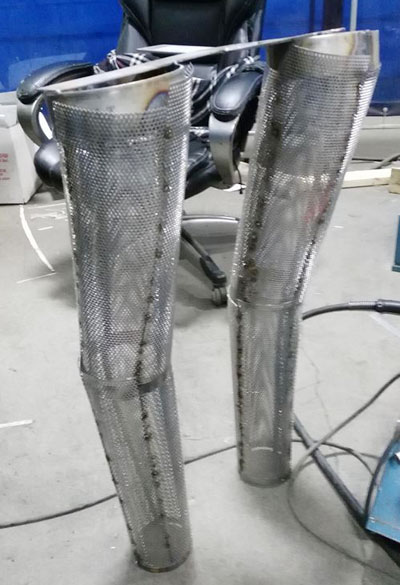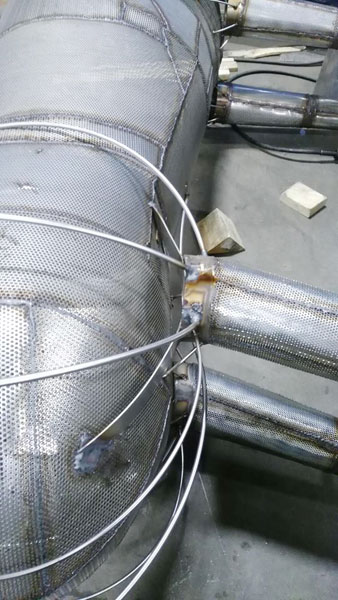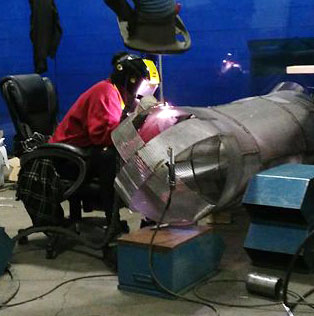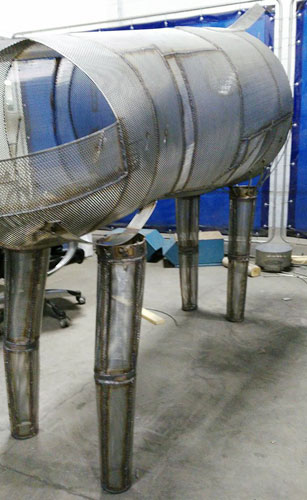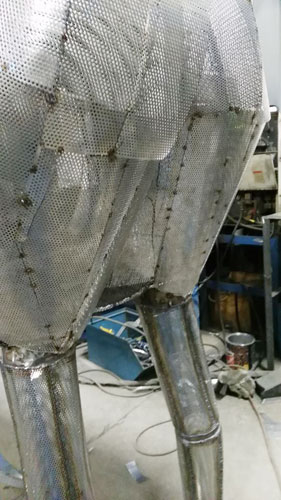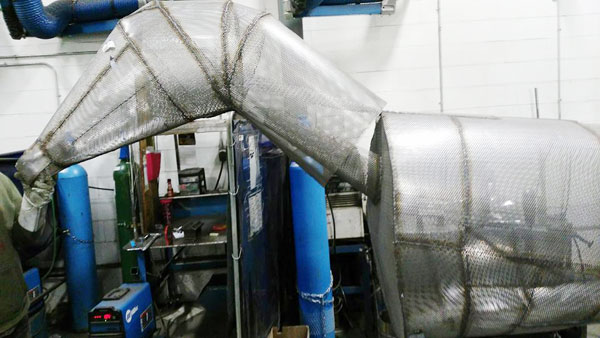 Sure Flow Founder and CEO John Wordsworth adds:In closing, this took hours to build. I would like to put it on the front lawn but I am concerned that a curious child may try to take a ride on it and it is very sharp. Instead, I will take it to my 500 acre farm.